By Martin Adams, Senior Business Analyst at RM Assessment & Data. Didn't have time to read all 114 pages of Ofqual's Annual Qualifications Market Report when it came out in September? Never fear - Business Analyst Martin Adams has done the hard work for you. Here's his summary of the key points.
The scale, diversity, and impact of the qualifications market is described in Ofqual's Annual Qualifications Market Report. The report covers the 2011/12 academic year and provides analysis of trends over the past five years. 176 Awarding Organisations registered 20,000 qualifications with Ofqual. The organisations created and delivered 11,550 qualifications which led to 16.4 million student achievements.
Achievements for all qualifications
The 16.4 million student achievements are composed of 5.5 million GCSE achievements, 2.1 million GCE achievements and 8.7 million achievements in 'Other' qualifications. 80% of these achievements were awarded by the largest five (Pearson, AQA, OCR, City & Guilds and WJEC) and 90% by the 20 Awarding organisations with the most achievements. In 2011/12, Pearson awarded 19% more achievements than in the previous year and awarded 40% more achievements than five years ago. HABC, NCFE and Skillsfirst Awards showed the largest growth in achievements over the last year (61%, 61% and 56% respectively).
Achievements in GCSE
The GCSE and GCE share by Awarding Organisation has remained relatively stable over the period 2007/08 to 2011/12. Table 1 illustrates this stability and shows that AQA is the largest provider for GCSE (44%).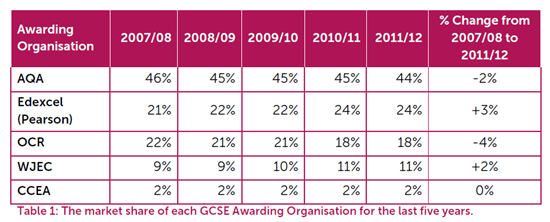 Analysis of the subjects recognised as part of the English Baccalaureate shows that just two awarding organisations are dominant in most subjects with more than 80% of the achievements. AQA is one of those two awarding organisations for 11 of the 13 subjects.
Achievements in GCE
The GCE qualifications section covers both 'AS' level and 'A' level qualifications. Table 2 shows the distribution of 'AS' level achievements and 'A' level achievements by Awarding Organisation for 2011/12. Similar to GCSEs, the AS levels and A levels share across Awarding Organisations is relatively stable with only small amounts of change over the past five years.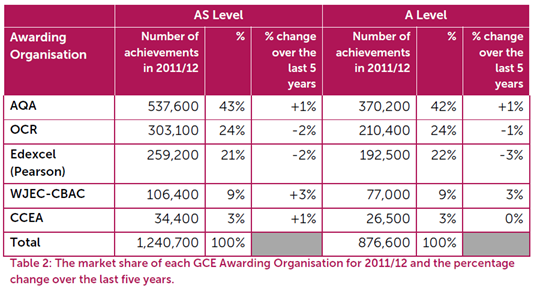 'Other' qualifications
The 'Other' qualifications category has seen strong growth from 6.3 million achievements in 2007/08 to 8.7 million achievements in 20011/12; an increase of 37% for the five year period. In contrast to the GCSEs and GCEs, the 'Other' qualifications category has seen more significant changes and this is illustrated in Table 3. Edexcel has grown by over one million achievements and this increase is due to growth in Qualifications and Credit Framework (QCF) qualifications. EDI and NCFE have both doubled their number of achievements.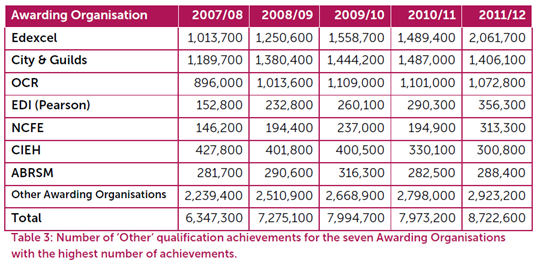 QCF qualifications now account for 60% of all 'Other' qualification achievements. Preparation for life and work sector and Arts, media and publishing sector have the highest number of achievements (33% and 10% respectively).
Looking forward
Several key changes will impact the qualifications market over the next few years. GCSE, AS level and A level reform and changes to performance tables including the English Baccalaureate performance measure will impact the GCSE and GCE markets. The Richard Review of Apprenticeships (2012), the introduction of traineeships from 2013, the implementation of Wolf review recommendations, review of adult vocational qualifications (due late 2013) and funding reform will impact the 'Other' qualifications sector.
Originally posted here.