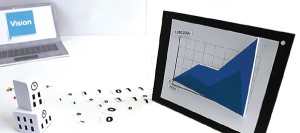 This is the first in a series of five blog posts on how to use your school's data to raise, monitor and prove attainment.
If data isn't high on your school's agenda yet, it soon will be. Here's why:
The new government data portal opens for business in 2015 through which almost all school data will be in the public domain
Changes in assessment levels as we move from 5 A*-C to Progress 8 and APS mean schools need to raise attainment across a broader range of subjects than ever before, making tracking and monitoring even more important.
Pupils will be assessed on their progress relative to their starting point, rather than simply on their overall attainment, which requires consistent monitoring throughout their school career.
Ofsted expects schools to know their data and to be comfortable extracting and manipulating data to inform interventions and then to evidence their effectiveness.
Ofsted requires school leaders to 'accurately evaluate the school's strengths and weaknesses and use their findings to promote improvement'.
Governing bodies that don't know their schools well enough and don't take the necessary action to raise standards in good time will be criticised by Ofsted inspectors.
What all of these things have in common is the clear need for robust and accurate data to benchmark standards, set targets, track and monitor progress, target interventions and then, crucially, to evidence their impact. What is less clear is how to achieve this data-driven nirvana – and, in keeping with the spirit of increased autonomy, it's largely down to individual schools to define. Exactly how the new assessment levels will work is as yet undecided, which is making some schools reluctant to grasp the data nettle, in case everything changes again.
No matter how all the details shake down, the overall message is clear: all teaching staff and school leaders need to be confident in recording, accessing, manipulating and using data. The days of hunches and guesswork are over.
In this series of blog posts we'll look at how to approach your school's data and make the most of its potential as a tool for school improvement.
For more information on using data to raise, monitor and prove attainment, stay tuned to this series of blogs and check out RM Education's free REAL Magazine.