As part of the Scotland Lights Up Malawi campaign, the charity Keep Scotland Beautiful is working with SolarAid to bring small solar lights to school children and communities across Malawi.
In Malawi, millions of families live without electricity. At 6pm when the sun goes down they are either plunged into darkness or burn expensive, dangerous kerosene to light their homes. Scotland Lights Up Malawi aims to change all that by raising awareness of the issue and fundraising to bring safe, solar energy to rural communities.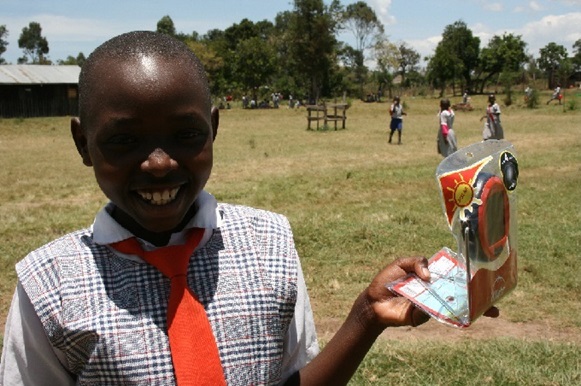 Student with solar light in Bomet, Kenya
The Scotland Lights Up Malawi Project uses the story of SolarAid's work in Malawi to highlight some important issues around energy, poverty, climate change, solar light, global citizenship and sustainability. Through the project, Keep Scotland Beautiful is encouraging children and young people to deepen their understanding of these issues and to develop their communication and citizenship skills. As part of a national competition, P6-S2 pupils are working together in mixed teams on an exciting environmental journalism and high profile campaign making project. Keep Scotland Beautiful will also be supporting teachers taking part in the project by developing resources and materials.
How does Glow support this initiative?
Louise Smith, Glow Advocate, recently presented Glow to 33 schools taking part in the project. Glow is being used to support the pupils in developing their projects and working collaboratively. The day was focussed on tools in Glow which would help teachers to collaborate and communicate.
"Teachers loved collaborating on a PowerPoint and seeing each others changes in realtime. They saw huge potential with One Note and enjoyed seeing how simple it was to set up a site. 'That's actually really easy' and 'I could use this for so many different things' were phrases I heard a lot that day!

-Louise Smith, Glow Advocate
A Glow Site has been set up for the project which pupils are already using to share ideas and comment on each others work. Teachers are encouraging pupils to blog about what they are doing to raise awareness of the issues that children in Malawi experience using Kerosene lamps and how much better things could be using Solar lamps.
"Pupils have been sharing lots of really creative ideas! I think they're also enjoying having a real audience and are replying to the questions they're being asked."

-Louise Smith, Glow Advocate
Use your Glow log in details to see some examples of the pupils work that has been uploaded to their Glow Blogs so far.
The Glow Site gives all of the schools access to a number of resources, web links, a discussion forum for the sharing of ideas and a number of other web tools to support pupils in sharing their project ideas and sharing comments on each others work.
"Glow has certainly added a lot of value to the Scotland Lights up Malawi project we are running at Keep Scotland Beautiful, as the number of school blog entries on the site can testify! Both children and teachers are finding it an easy and convenient way to record their thoughts and talk/share what they are learning. It has also allowed us to store all the important documents for the project together in one place, making them easy and quick to access."

-Sarah Junik, Education Support Officer for Keep Scotland Beautiful
To find out more about how Glow Blogs or other resources available through Glow which support teaching and learning, please email rmunify@rm.com