Network solutions
for schools
Wireless
As schools continue to increase their use of mobile technology and cloud services, the wireless infrastructure becomes ever more essential in enabling seamless teaching and learning.
With over a decade of experience in wireless solutions, we understand what you need to make your experience whole. We have partnered with the wireless providers that deliver the most educationally suited solutions; both financially and technologically.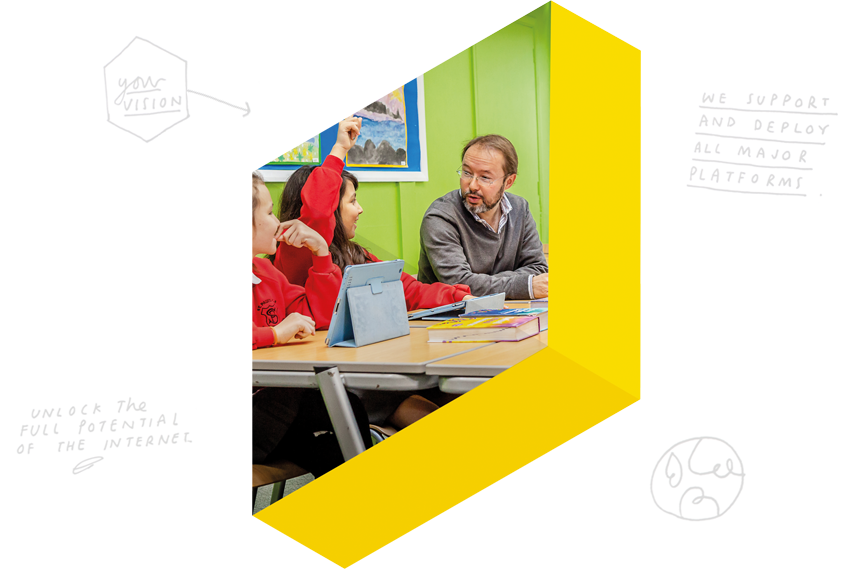 Budget
Our experts will work with you to understand your vision for your school and the best way to get there within budget and timescale.


Flexibility
Our team of experts will provide you with a continuous, reliable service that supports your teaching and learning and allows for a high degree of flexibility. Planning a wireless network has never been easier, and if you need coverage in an area then we can simply add another access point.


Teaching and learning
Regardless of the device, whether it is a desktop computer, laptop, tablet or smartphone, pupils have equal access to the network, creating a uniform learning experience for every student, providing a seamless, reliable and secure solution to support your teaching and learning.


Security
Our solutions feature a wide range of security measures to protect your confidential data and aid in compliance. Extensive security features are built-in with additional security functions available as add-on options.


Management
We can offer managed wireless solutions, wireless network implementation and integration of the wireless network into your existing solution.


Support
With a single network support contract for all of your supported technology, you can get the help you need when you need it.


Many, many years of excellent support. A real understanding of the issues facing school networks.
Our Products
Aruba Instant Wireless
Local Management
This is included within the Instant Access Point and enables all functionality required to manage a single local network.
Aruba Central
Simplistic cloud management enabling offsite management of multiple networks in varied locations. Perfect for a multi-academy trust with a technical team that covers a number of schools.
Request a call or call us on 0800 046 9798 to find out more
Everything is faster, stability is better, there's less down time and we are less stressed, everybody wins.
back to top button