LONDON: 2 August 2022
RM shortlisted in two categories for the 2022 ISPA Awards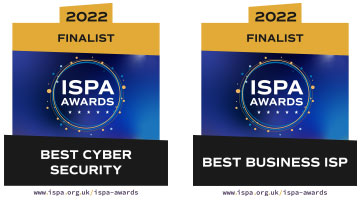 RM is delighted to be selected as one of the finalists for the ISPA Awards 2022 in both the Best Business ISP and Best Cyber Security categories.
The Best Business ISP category recognises our education-specific broadband services which provide schools and trusts throughout the UK the connectivity they need to bring online resources into the classroom for effective teaching and learning. They also allow schools to use cloud-based technology to its fullest extent for communication and collaboration.
This is the third year in succession that RM has been finalists in the Best Cyber Security category, having been selected as winners in 2019. This year's submission demonstrated how one client in a single local authority area can rely on RM's cyber security services to protect its almost 500 schools with over 200,000 pupils and staff.
Now in its 24th year, the ISPA Awards is the longest running and most prestigious awards for the UK's Internet Service Provider industry. An independent panel of industry experts judges each category to ensure that only the highest quality suppliers are recognised. The winners in each category will be announced on 24th November 2022.
Simon Carter, Marketing Director, Technology at RM said:
"With the role of technology within schools no longer a luxury, but an essential part of any school business strategy, the reliance on high quality connectivity has never been greater. Our research shows that for many schools and academy trusts, having a secure and stable internet connection is something that has become essential, so it is no surprise that the judges for this year's ISPAs have shortlisted so many providers who work with the education sector. It's very gratifying to have them recognise RM for the fourth year in a row. Win or lose, we will continue to focus on giving our schools the peace of mind that comes from a connectivity partner that only works in the education sector".
About RM
RM plc is a £211m turnover British business, with c. 1,990 employees globally. Established in 1973, RM provides market-leading products and services to educational institutions, exam bodies and international governments which improve, simplify and support education and learning. rmplc.com.
RM's Technology division (RM.com/education) is a market-leading supplier of ICT software, technology and services to UK schools and colleges to deliver a technology environment that improves learning outcomes and makes the most of IT investment.
RM Resources is the UK Market leader with two distinctive brands – TTS and Consortium, RM Resources improves learning outcomes by providing unique and innovative teaching resources and education supplies to schools and nurseries worldwide
RM Assessment is a leading provider of assessment software, supporting exam awarding bodies, universities and governments worldwide to accelerate their adoption of digital and transform assessment.
Media Contact
For more information, quotes, or images on this story, please contact:
Simon Carter
scarter@rm.com
OR
Lena Spicer
Harvard PR
RM@harvard.co.uk
back to top button