Results & feedback
The information you need to improve quality and understand candidate performance is hidden in your assessment data. And the beauty of digital assessment is that you can measure almost anything you like.
Your needs aren't like anyone else's. RM's assessment platform helps you to collect, analyse, and find the data that'll most make a difference to you.
If you have a question about item, candidate, cohort, or examiner performance, RM's assessment platform can help you answer it. You can add your own data fields to any record, to track almost any metric you like. This can then be combined with student responses for analytical reporting.
Real-time results
RM's reporting module lets you spot the insights that matter. Real-time dashboards help you intervene at the right moment, while ongoing trend analysis – from cohort-wide reporting to granular details on individual assessment items – help you to drive continuous improvement. Importantly, you're in control. Alongside a full range of reports and data extraction processes, the reporting module makes it quick and easy to access any report on request, or even scheduled to suit your needs. And soon RM's assessment platform will also let you build custom reports of your own, making it simple to create, publish and retrieve relevant data whenever you need it.
Key facts
Utilise predefined reports or extract raw data
Use built-in third-party tools that enables you to create your own reports
Access to quick statistics and reporting capabilities
Schedule reports
View student progress / live work with playback & history
Support for international student and school data exchange standard SIF V1.3
Fast-track results to candidates and educators
As well as accelerating the marking process, RM's assessment platform lets you pre-configure the reports that will confirm your candidates' results – ready to be populated as soon as the marking is done. That means you can track progress in more detail, educators respond faster to formative tests, and candidates don't have to wait for their all-important results.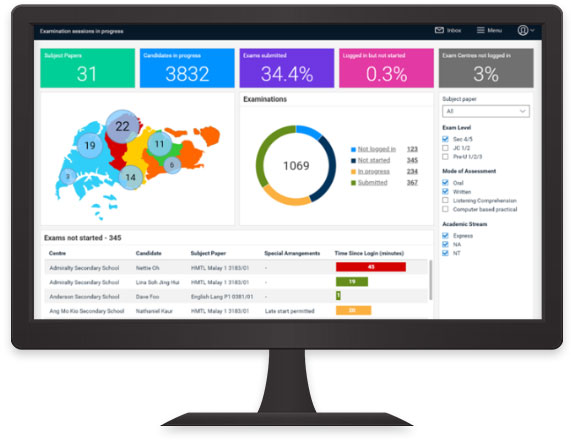 Operational dashboard
Operational dashboards will give you the information you need when you need it giving real-time information on any aspect of the assessment process from item creation to tests being conducted and then through to tracking marking for results release.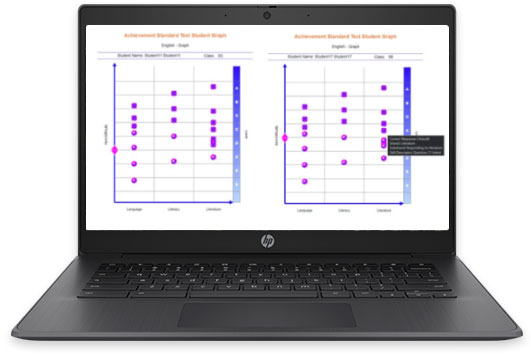 Analytics
Visualisation of the raw data will give better insights to student performance allowing better targeting of areas of development. Progress reports allow for students to see how their performance improves over time, so they know they are progressing towards their goal.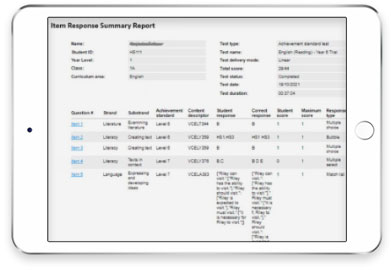 Raw data extract - item response
You will have access to the raw data for each test and the items within the test. This will allow you to really understand how your tests and items are performing to ensure the tests are delivering the correct results.
back to top button