Web filtering software for schools - keeping children safe online.
Automatic updates and user-based controls, providing full KCSiE compliance.
More than 1 million children are protected
by our web content filtering for schools and trusts
School safeguarding teams need to keep up with the evolving digital world. Allowing young minds to explore, learn from and respect the internet whilst shielding them from harmful or inappropriate influences requires a robust yet flexible solution.
Flexible filtering to support your online safety policy
RM SafetyNet supports your school's online safeguarding policies and the implementation of a balanced curriculum.
By default, illegal websites are blocked by RM SafetyNet based on input from the Internet Watch Foundation, the Home Office, the Counter Terrorist list and security intelligence, including radicalisation content. Our technology safeguards devices brought into school when they're connected to the network. You can add your own filtering preferences and adjust access for different users.
Alerts can be set up to notify you of attempted access to harmful or sensitive content, highlighting any non-compliant browsing activity.
As the product is cloud-based, no additional hardware is required on site and your system will automatically update.
"Whether you want to apply filters to browsing activity, set safeguarding alerts, view your bandwidth or create firewall rules, RM SafetyNet does it all. It is a stable and user-friendly platform, making it a popular tool for the 460 HFL Education schools that use it."
Personalised access for different users
User-friendly safeguarding to protect your whole school community online.
Rather than a blanket ban on certain sites, RM SafetyNet allows you to relax or tighten the rules based on school year, class, key stage, website category (e.g. game sites) or even based on timings to accommodate breakfast clubs, breaktime and after-school clubs. You can also adjust access at individual user level, whether as a privilege, reprimand or extra safeguarding.
Protection for all devices
Essential for 'bring your own device' set‑ups
All devices brought into school that use the school internet connection (or guest wifi) will automatically be subject to the filter lists available to the rest of your network.
This is known as transparent filtering and offers you peace of mind that pupils or staff using non-school equipment are browsing safely and within your chosen limits. It works in the background meaning this won't interrupt connectivity.
...and even for devices taken off site.
The solution also benefits from browser-based filtering for laptops, iPadOS and Chromebook devices. RM SafetyNet Go allows devices to be taken away from the school network and still benefit from user-based, age-based and time-specific filter rules.
The best level of web protection, even at home - URL and content filtering including blocking adult and extremist content, plus the other elements to ensure KCSiE compliance
Everyone accountable,
everyone protected
All devices brought to school will be identifiable at user level
Thanks to user-based filtering technology, users are required to log on to the internet via their own username and password. All internet browsing activities can be monitored should you need to follow up with the individual or parent. Set up is simple and non-intrusive.
Advantages for multi-academy trusts
Streamline your safeguarding across all your school sites
RM SafetyNet provides a hierarchical approach when it comes to setting access rules, administration and reporting for multi‑academy trusts (MATs). This allows MATs to implement filtering polices that apply across all their schools/colleges to ensure their students are learning in a safe online environment, negating a separate set up at each site. Any changes you make to your settings can be applied universally. Schools also have the option to add filters alongside those set out by the MAT, maintaining their own control.
Instant reports when you need them
Identify trends or misuse
Whether you want an 'at a glance' report for a quick meeting or a more in-depth analysis for the school governors, the reporting suite can produce this for you.
Reporting gives you the ability to identify which users, if any, have been attempting to access inappropriate content online and helps you to meet the statutory requirements for appropriate filtering as set out in the Keeping Children Safe in Education (KCSiE) guidance. Reports also identify trends and statistics that many schools find useful, such as percentage of broadband consumed by various websites.
Developed in partnership with...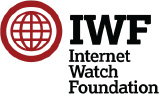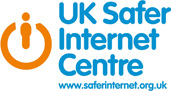 Additional online safety resources for schools
We've created three useful documents to help you keep your pupils safe online. We also have a blog post summarising the most recent changes to the Keeping Children Safe in Education (KCSIE) guidelines.
Online safety research report
We spoke to schools and parents across the UK to find out what they think about their own online safety knowledge and how they'd like to receive information about online safety.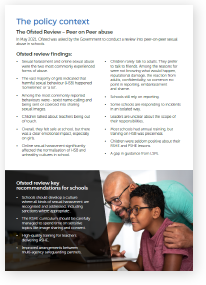 Online safety guide
Find out more about today's challenges and schools' responsibilities regarding online safety.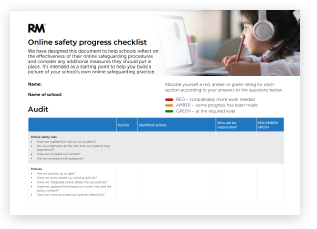 Online safety checklist
A simple way to evaluate your online safety arrangements and understand steps you may still need to take.
Fulfil your responsibilities outlined in Keeping Children Safe in Education, The Prevent Duty and
Ofsted's Common Inspection Framework whilst offering your pupils
the freedom to learn from the biggest source of content in the world.
back to top button