Connect the Classroom
Maximise your return from the DfE scheme by partnering with RM and Aruba
Get your classrooms connected with an education-specific infrastructure service.
What is Connect the Classroom?
The Connect the Classroom scheme is a Department for Education (DfE) programme which provides funding for schools in eligible areas to upgrade their wireless network infrastructure.
Upgrading network technology will mean that pupils can benefit from fast and reliable access to online resources to enhance their learning.
Which schools are eligible?
The government has identified 55 Education Investment Areas (EIAs). Of these, 24 have been designated Priority EIAs.
All state schools in the Priority EIAs are eligible to apply for funding. In addition, schools in the remaining Education Investment Areas with an Ofsted rating below 'Good' at their last inspection are also eligible to apply.
The Priority EIAs are:
Blackpool, Bradford, Derby, Doncaster, Fenlands and East Cambridgeshire, Halton, Hartlepool, Hastings, Ipswich, Knowsley, Liverpool, Middlesbrough, North Yorkshire Coast, Norwich, Nottingham, Oldham, Portsmouth, Rochdale, Salford, Sandwell, Stoke-on-Trent, Tameside, Walsall, West Somerset.
The Education Investment Areas are:
Bedford, Bolton, Bury, Cambridgeshire, Central Bedfordshire, Cornwall, County Durham, Coventry, Darlington, Derbyshire, Dorset, Dudley, East Sussex, Isle of Wight, Kirklees, Leeds, Lincolnshire, Luton, Manchester, Norfolk, North Northamptonshire, North Somerset, North Yorkshire, Nottinghamshire, Peterborough, Plymouth, Rotherham, Sefton, Somerset, South Gloucestershire, South Tyneside, St. Helens, Suffolk, Sunderland, Swindon, Wakefield, Wirral.
The map shows Priority EIAs eliglible for Connect the Classroom funding in red where the Priority EIA covers an entire local authority area, and in yellow where the Priority EIA does not cover an entire local authority area.
The areas shown in blue are Education Investment Areas.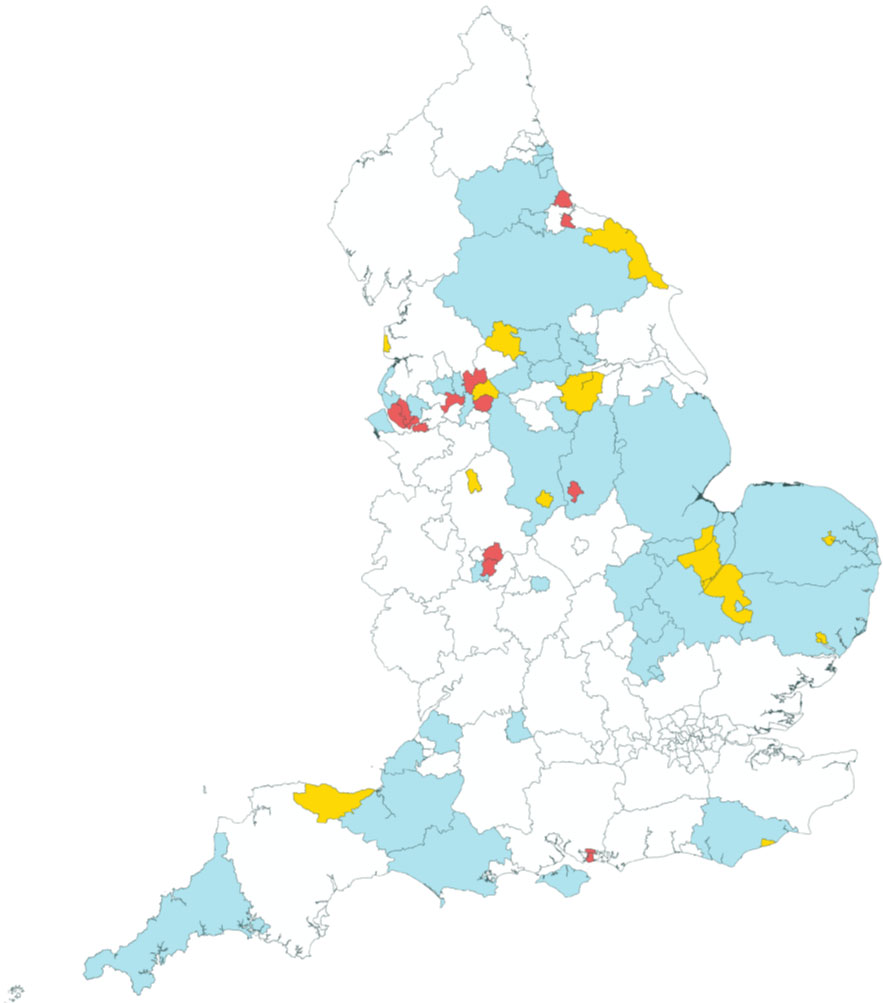 Key
all state schools eligible to apply for Connect the Classroom funding
all state schools eligible to apply for Connect the Classroom funding
schools with an Ofsted rating below 'Good' at their last inspection eligible to apply for Connect the Classroom funding

the perfect combination for Connect the Classroom
RM has nearly 50 years' experience in providing technology for education. As a trusted partner to thousands of schools across the UK, we help improve their technology and deliver expert IT support services.
Aruba is a global leader in secure, reliable and scalable wired and wireless infrastructure, providing schools and trusts of all sizes with simple and affordable networking solutions that help deliver multi-modal teaching and learning, regardless of location within school.
RM is an official Aruba partner, and together we have already helped dozens of schools implement Connect the Classroom projects. We will help you find the right infrastructure for your school environment. And with installation managed by RM, you can look forward to a hassle-free setup.
"After the Connect the Classroom upgrade, we can now provide a robust stable connectivity, with numerous students online concurrently".
What happens next?
Get in touch to request a quote and discuss your requirements in detail
Read, review and send the RM quotation to your IT Adviser from the DfE who will carry out the final quality & specification compliance check and ensure the design represents value for money
Once you have received confirmation from the DfE choose your supplier (hopefully RM!)
Assuming you wish to go ahead with RM complete the order form with a PO reference and approved signatory
That's it - we will then be back in contact to arrange for the successful delivery of the project, including a full site survey to finalise your design, acceptance testing and support from our project management team
back to top button