Press Release | 21 October 2020
RM Education extends contract with Salford City Council to digitally future proof the city's schools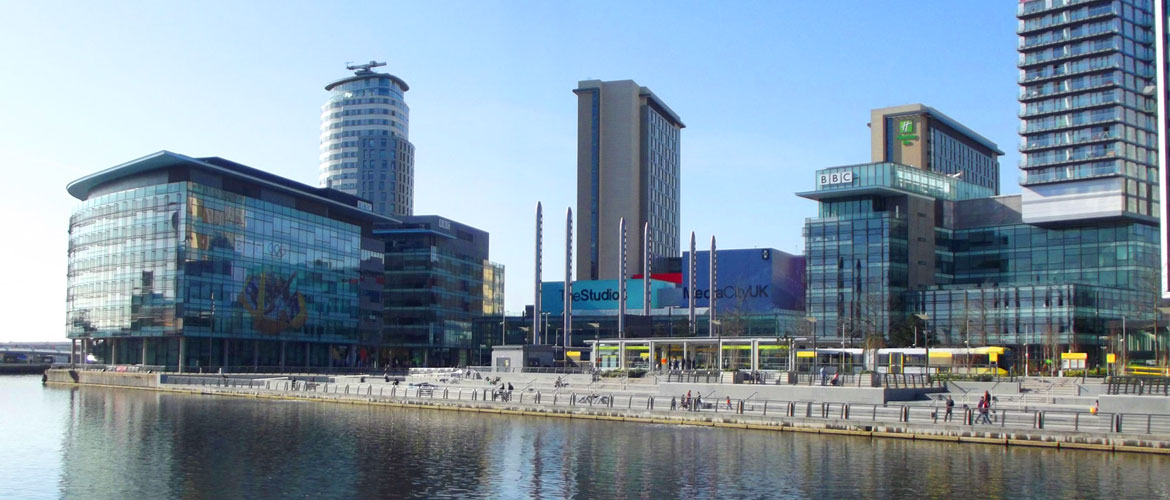 LONDON, 22 October - RM Education, a leading supplier of technology to the education sector, today announced an extension to its long-standing contract with Salford City Council. This relationship – which dates back to 2010 – has been extended for two more years.
Salford City Council is a metropolitan district council, part of Greater Manchester, that supports a population of over 220,000 people, including 25,000 children who are educated in the city's 100 Primary and Secondary Schools.
Following a competitive procurement process in 2016, Salford City Council selected RM Education for a four-year, £6.4m contract, to fully manage its technology estate, with a combination of both on-site and mobile technical engineers servicing the many and varied needs of 60 of its schools. After four successful years, the Council has decided to extend the contract for two more years, to enable them to continue the implementation of their digital education strategy.
The next phase of the contract will see further technology improvements for the next generation of Salford's pupils. This will include further moves to the cloud, and – in light of the Coronavirus pandemic – supporting the children of Salford with Remote Learning in case of further lockdowns or as contingency against other events that may prevent access to the classroom, such as fire, flood or poor weather.
As can be seen from this infographic, the pupils of schools in Salford have seen tremendous change over the last ten years. Schools are now running the most modern and safest computer systems; pupils are doing their work on Google Chromebooks and iPads; broadband speeds have increased from just 10Mbps in 2010 to over 100+ Mbps today, and rather than accessing computer documents locally, these are all now in the cloud – making data accessible anywhere at any time.
"Salford City Council is an excellent example of the type of change that schools right across the country have faced over the last ten years. In 2010 we could not have foreseen the importance that technology would bring to the education sector, and we are delighted that the Council have extended this contract. Salford's early move to the cloud gave them an advantage when the pandemic forced many children to be taught at home. At RM, we are excited about the opportunity to apply our expertise with existing and emerging technologies to ensure that the pupils of Salford receive the education they need in and – increasingly – outside the classroom"
John Baskerville, Managing Director of RM
As part of the contract, RM Education employs seventeen people in the local community, and whilst a company of this size relies on staff across the globe to support a customer of this size, the majority of dedicated employees will continue to remain in Salford for the duration of this contract.
Deputy City Mayor Councillor John Merry, Salford City Council said: "We are delighted to renew the contract to provide the best digital technology and education to our pupils. Digital technology has never been more important now as we live with the pandemic and the disruption that has caused to our lives and for the future. Salford is home to the second largest cluster of digital firms outside London at MediaCityUK where the BBC and ITV are both based, with all the potential for future employment that brings."
Salford won both Digital Council of the Year and Digital Leaders 100 in 2018. Read more about Salford's digital ambition at www.salford.gov.uk/digitalsalford.
RM is a leading supplier of technology and resources to the education sector, supporting schools, teachers and pupils across the globe – from pre-school to higher education – including examination boards, central governments and other professional institutions.
For more information on how RM could support your school or trust, visit rm.com/education
About RM Education
RM Education helps schools save time, save money and improve the impact of technology on teaching and learning. It is a market-leading supplier of software and services working in partnership with thousands of schools to improve outcomes for all learners rm.com/education
About RM plc
RM Education is part of the listed company RM plc – the £224m turnover British business, with over 2,000 employees globally, established in 1973, specialising in providing information technology products and services to educational organisations and establishments. Its key market is UK education including schools, colleges, universities, government education departments and educational agencies rm.com
Media Contact
For more information, quotes or images on this story, please contact:
Simon Carter
scarter@rm.com
or
Sam Shaw
Harvard PR
RMEducation@harvard.com
0207 861 2800
back to top button