Press Release | July 2021
Digital assessment is key to bridging the UK's digital skills gap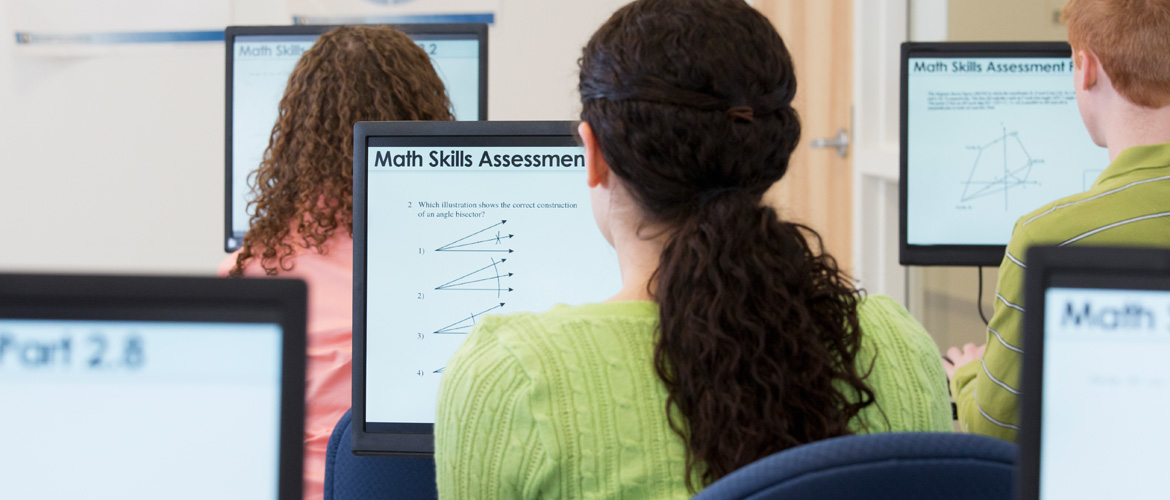 World Youth Skills Day has come at a turning point for the global education system: faced with the prospect of a "lost generation" hamstrung by the COVID-19 pandemic, teachers and governors alike are clamouring to find a "new normal" for a sector in flux.
But while the UK Government deliberates over the future of education, other sectors have already shed what was left of their pre-pandemic offerings to build something that's new, improved and – most importantly – digital first. The question, then, is how does an education sector ensure that its young people are equipped to thrive in the job market of the future?
After all, as it stands, the UK is headed towards a catastrophic digital skills shortage – currently, the number of pupils studying GCSE IT courses alone has dropped 40% since 2015. There's no question that now is the time to make real and lasting changes to ensure the next generation are digitally literate enough to bridge the country's skills gap; and what happens in classroom is the key to making that happen.
While the whys and the wherefores of school bubbles and social distancing are yet to be decided, it's unequivocal that schools have had an incredibly challenging last year and the next few months will be an opportunity to build on that good work to make a better future for themselves and their pupils.
Digital change is one percent inspiration, and ninety-nine percent innovation
Digital assessment (i.e. on-screen exams) has been commonplace in a number of sectors for many years already. The likes of IELTS Language Tests to Chartered Accountancy Certifications and other education institutions around the world are using digital tools to effectively test would-be employees, or students applying for higher education courses, using methods that more closely align with businesses and other education systems around the world.
What's more, with COVID-19 upending the ways in which we live and work for good, we're now seeing innovation in the assessment space surge as more and more education institutions look for pioneering alternatives to hand written exams in echoey school halls or hotel conference rooms. And we're all familiar with the nerves before an exam and the last-minute rush to ingest the most important information from your notes and, if you're anything like me, the nervousness of sitting under the watchful eye of an invigilator for an hour or so.
But that is changing; in fact, many assessment and certification providers have started to implement remote invigilation for the very first time. Not only does this give test takers more flexibility when it comes to when and where they take their assessment – thereby alleviating the need to travel to dedicated centres on a specific day, which in some countries can be a huge journey and a long wait for test dates – but also means they can still take exams if it's a snow day, or if they have been asked to self-isolate.
What's more, it can reduce expenses for students who are already taking on vast and burgeoning student loans. Instead, students can take their test on-demand and all from the comfort of their own home.
And that's not all, the use of adaptive testing is also growing rapidly. This allows test takers to get a much more personalised assessment experience and, in some cases, also makes the assessments much shorter – but with the same high levels of accuracy and validity. The Oxford Test of English, for example, is a globally respected assessment designed from the ground-up to be digital and adaptive. Essentially, adaptive testing, supported by artificial intelligence (AI), adapts to students' responses to assess a broad range of skills – including those above and below a student's chronological grade – to accurately determine an individual student's knowledge and skill.
Last but not least, we're also seeing a rise in the number of assessment providers using digital tools to provide "checkpoint" assessments which help the test taker know if they are ready for their final assessment. This saves the candidate time, money and gives them confidence before an exam.
Why test young people digitally, and why now?
With digital skills becoming increasingly essential to life post-education, there's no question that digital assessments should be implemented across all schools and colleges as part of a modernisation programme post COVID. Pupils are hungry for authentic learning and assessment that's more akin to what they'd be doing in the world of work. And, after all, digital assessments test real-world and on-the-job skills.
But while it's clear that the digital skills gap starts in education and grows as young people enter higher education and decide on their careers, the effectiveness of technology in teaching – when implemented correctly – is still being overlooked. While technology should be bettering the relationship between teacher and pupil, the reality is that, all too often, it's presenting challenges because school staff aren't sure of how to use it effectively.
By digitally assessing students, instead of manually marking each paper, teachers' workloads become vastly reduced, giving them time back to do what they do best: teach! Not only that, but digital assessment tools could also offer teachers and lecturers thorough overviews of each student – from what they're great at, to what it is they're finding difficult, all to help them get the most out of their education.
It's time to shape the digital-first future of education
If the past 12 months have taught us anything, it's that we can rethink and reshape how the education sector operates and do away with 'traditional' approaches that are no longer fit for purpose. We have also seen the incredible ability of global education to respond to a crisis, in many cases flipping the entire teaching model on its head, and still deliver high quality learning to pupils in extremely challenging circumstances. Preparing the next generation for the realities of the workplace – regardless of what career they choose – is more important than upholding the status quo simply for the sake of it and we now have the perfect opportunity to act.
For more information on how RM could support your school or trust, visit rm.com/education.
About RM
RM's technology business unit enables the improvement of education outcomes around the world through the innovative use of existing and emerging technologies. With a heritage dating back almost 50 years, supporting schools, teachers and pupils across the globe – from pre-school to higher education – including examination boards, central governments and other professional institutions. rm.com/education
About RM plc
RM's technology division is part of the listed company RM plc – the £189m turnover British business, with c. 1,837 employees globally. Established in 1973, RM plc's Group purpose is to enrich the lives of learners worldwide. rm.com
Media Contact
For more information, quotes or images on this story, please contact:
Simon Carter
scarter@rm.com
or
Sam Shaw
Harvard PR
rmeducation@harvard.co.uk
0207 861 2800
back to top button