Support Newsletter
Issue 45, Autumn 2022
Welcome to the latest issue of the RM Support newsletter. This edition includes the normal security information, updates, and development news. If there is content that you would like us to cover in future editions, then please email us at supportnewsletter@rm.com. Please note that you may be the only person within your establishment to receive this newsletter, so please pass on to your colleagues.
An index of all the released newsletters so far can be found in DWN5175632.

RPA Cyber Cover (DfE communication)
The DfE have recently published this information for schools: RPA Cyber Cover (office.com).
RM's response and guidance can be found in the following blogs:
Police CyberAlarm collector installation requests for RM Connectivity
We have had multiple calls from customers asking about RM's position on this and our advice can be found in NWS8575874.

Windows Server 2012R2 End of life – October 2023
There is also just over a year and a half until Windows Server 2012R2 goes end of life. Customers still using this OS should start planning their options to upgrade or move to the Cloud in this time, as there are only two summers left for any major network changes.
Please speak to your RM account manager to discuss your future plans.
Windows 8.1 End of life (10 January 2023)
As we are covering EOLs for Microsoft products, it is worth noting that 8.1 will go EOL very shortly (less than six months). Microsoft have also stopped supporting it in Intune.
Basic authentication being turned off in M365 from Sat 1 Oct 2022
A reminder that Microsoft are starting to turn off basic authentication to Exchange Online in M365 tenancies from Saturday 1st October 2022: Basic Authentication Deprecation in Exchange Online – September 2022 Update - Microsoft Tech Community
The following protocols are affected: MAPI, RPC, Offline Address Book (OAB), Exchange Web Services (EWS), POP, IMAP, Exchange ActiveSync (EAS), and Remote PowerShell.
SMTP Auth (mostly used by printers/scanners etc) is not affected right now.
The article above also gives information on how customers can ask for a one-time re-enablement (but only until the end of December 2022).
Microsoft report that affected apps will receive the following error: HTTP 401 error: bad username or password.
Customers still using basic authentication will have been getting notifications in their M365 Message Center advising that they still have some clients connecting using this method. If you are not sure if you have been affected, look at your Message Center for similar messages to the below, and follow the links provided in the message for more advice on what to do.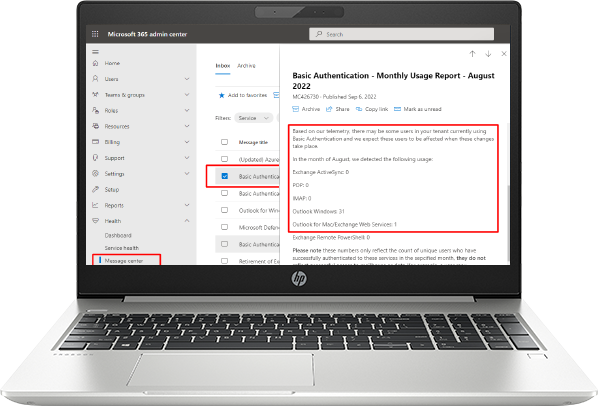 RM SafetyNet – an essential tool for schools keeping children safe online
The Keeping Children Safe in Education (KCSIE) guidelines highlight the importance of online safety in the context of UK schools, recognising the ever-evolving risk of online harms to children.
The 2022 guidelines state that schools must "ensure that appropriate filtering and monitoring systems are in place" but cautions that they "be careful that "over blocking" does not lead to unreasonable restrictions as to what children can be taught with regard to online teaching and safeguarding".
With 23 years of experience providing internet safety guidance and solutions to schools, RM is well placed to advise and guide your school in ensuring you have the most appropriate online safety measures in place.
RM SafetyNet supports your school's online safeguarding policies and the implementation of a balanced curriculum. Illegal websites are blocked based on input from the Internet Watch Foundation, the Home Office, the Counter Terrorism list and security intelligence, including radicalisation content.
You can add your own filtering preferences and adjust access for different users. Alerts can also be set up to notify you of attempted access to harmful or sensitive content.
"Whether you want to [apply filters to] browsing activity, set safeguarding alerts, view your bandwidth or create firewall rules, RM SafetyNet does it all. It is a stable and user-friendly platform, making it a popular tool for the 461 Herts for Learning schools that use it."
Kevin Crawley, Broadband Lead, Herts for Learning

New 'OneDrive Sync' client for CC4 customers
We have now released a replacement for the 'CC4 OneDrive Mapper' for eligible CC4 customers.
The 'OneDrive Sync' client uses the native Microsoft OneDrive in a new mode that allows it to function on shared devices. This allows your users to see their OneDrive folder within File Explorer and save to it from applications.
We are no longer developing the 'CC4 OneDrive Mapper' (as this was based on older technology: the mapped drives used WebDAV and the PowerShell script to map the drive utilised Internet Explorer, which has now passed its EOL date).
TEC8626737 gives details on removing the 'CC4 OneDrive Mapper' from your network.

Use our technical articles on the RM Support page to identify where you have a gap in your network. Some recent articles are listed below.
| Article | Description |
| --- | --- |
| | CC4 Windows 10 computers - Removing the 'Reset this PC' recovery option |
| | Unable to rename computers in RMMC |
| | Removing the CC4 OneDrive Mapper from your network |
RM Unify, Cloud, O365 and Google articles:
| Article | Description |
| --- | --- |
| | How to add and remove child sites from multi-site RM Unify AD Sync |
| | "Error 1923. Service RM Unify AD Sync Sync Service could not be installed" error displayed when installing RM Unify Ad Sync |
| | RM Unify Network Provisioning - Users moving between establishments with multi-site network provisioning |
| | RM Unify Network Provisioning - How to stop the Network Agent configuring home folders for new users |
| | Google audit log reports multiple 'Password change' events for RM Unify users |
| | RM Unify AD Sync assigns the wrong email address override to an RM Unify user |
| | RM Unify accounts are unexpectedly provisioned for staff who are 'off roll' in Arbor |
| | "External licences are not supported for this app" error shown when attempting to install an app from the RM Unify App Library |
Our latest release Blog for RM Unify can be found here:
RM Support self-help videos
We have released a number of videos to help customers (and staff at schools) with daily tasks. Below is a selection of these videos:
The first of these shows how your teaching staff members can use their password management access rights to help reset passwords for student users – please follow this video link. If you need any further help, please get in touch with RM Support.

To enable/disable Internet access for student users, please follow this this video link. Note: We will also need to install RMMC on the user computer and assign the 'Delegate Role' to them.
New Knowledge Library coming soon...
Many of you will be aware that we are in the process of changing our business tools to deliver a more feature-rich experience. As part of this transformation, we will be introducing a new service portal that will see new and improved functionality, including a new Knowledge Library.
As part of this transformation, we will be migrating the existing Knowledge Library articles to the new system. Whilst they will adopt a new Knowledge Base (KB) number, we will ensure the current article reference is included at the end of the title so they can still be easily identified.
Please keep a look out for more information from us on this in the coming months. In the meantime, you may wish to keep a record of any articles you have stored in your My Library, to allow you to bookmark them in the new Knowledge Library.

If you are looking to move your device management into the cloud, then Intune (or Endpoint Manager) is RM's preferred solution. We provide standard configuration for this device management solution and support both Windows 10 and 11 devices enrolled into it. For more information please follow: School Modernisation and IT Strategy (rm.com)
We use both Autopilot and the 'Set up School PCs' app for device enrolment and can help with application packaging and tenancy management.
Intune is a constantly improving offering from Microsoft and you can keep up to date with significant changes in https://docs.microsoft.com/en-us/mem/intune/fundamentals/whats-new, as well as searching for articles that RM author in our Knowledge Library.
ADMX template import – Intune now supports importing ADMX (and ADML) template files so that you can then manage other browsers and applications via the administrative templates profiles. Click here for more information.
Remote help – is being rolled out to Intune education tenancies from late September. You will need an A3 or above licence to be able to use this (or the legacy M365 A1 licences). As more information is made available, we will publish a TEC article, but you can read more about this feature here.
Intune Articles
Some recent RM articles on Intune include:
| Article | Description |
| --- | --- |
| | RM default XML file for AppLocker (block admin apps) – provides a tested XML file to block CMD, PowerShell and Regedit on Intune devices |
| | Google Chrome browser is now supported for configuration |
| | Disabling 'Microsoft Search in Bing' for your organisation (tenancy) – not strictly an Intune issue, but we have had customers wishing to switch this off as Intune devices are configured to auto log on to Edge with your M365 account and this then makes the Bing search within your tenancy automatic |
| | Autopilot & 'Set up School PCs' troubleshooting – an article that we keep up to date with important troubleshooting information for device enrolment |
RM Technical Webinars / Q&A
We plan to run some technical webinars in the coming months and are asking for customer feedback on the topics you'd like to see covered. For example, Intune (device management, enrolment, reporting, applications), M365 (config, security, MFA) etc.
Please use the email address below to feedback your session ideas.
Exceptional Service
Received great customer service from us? Let us know and we will recognise staff in our internal awards scheme.
Join the conversation
Follow us @RMEducation to find out the latest security updates, news and announcements.
Feedback welcome
Let us know your thoughts and ideas for future issues. Email supportnewsletter@rm.com to give us feedback.
back to top button