Maintaining accurate and meaningful records of every pupil's attainment is one of the most important elements of driving school improvement. There are several techniques for achieving this. Some schools still use individual spreadsheets, others have specific pupil tracking and assessment software and still more use their management information system (MIS). Whichever technique your school uses, the system's ability to truly support your school improvement objectives can make your life progressively easier or more difficult.
More schools are looking to consolidate their software packages into a smaller number of integrated platforms that minimise administrative effort and free up time to strategise, plan and implement. As a result, the right MIS is becoming a popular choice to support the assessment process. Your current MIS may not offer the level of assessment support that releases time to concentrate on the 'what next' for individual pupils and groups. If so, switching to RM Integris could work for you.
Real time reporting and analysis
If you understand how each cohort, class, group of pupils or individual children are achieving, you can set goals for improvement, put in place the strategies to reach them and monitor their effectiveness. RM Integris feeds directly into helloData Power BI reporting to produce visual analysis of your assessment data. You can use the built-in reports and dashboards to share information with colleagues, governors and view trust wide data; selecting the data that matters to your specific context.
For example, the built-in Attainment Report gives a clear picture of attainment across the school. You can then easily filter to see individual year groups, subjects, pupil groupings and individual pupils. These include Looked After, Service Children, EASL or others you devise yourself and have set up in RM Integris.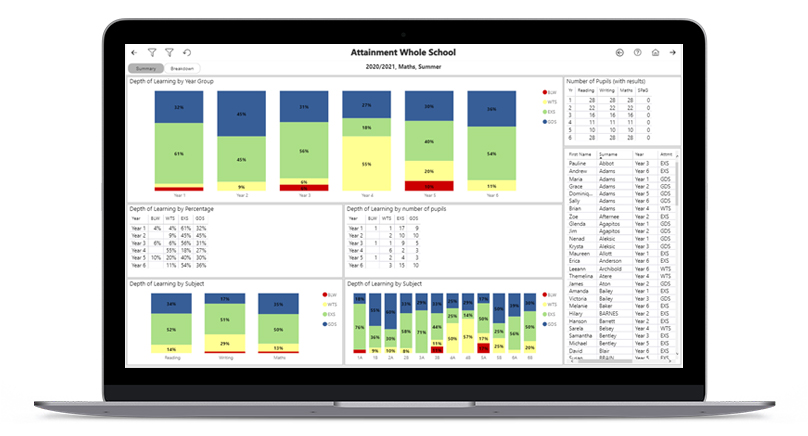 Whole School Attainment report gives you attainment data in one place.
The On Track dashboard gives the percentage/count of pupils on track for expected and greater depth in each subject and combined. It provides a breakdown of the figures by key group and includes national figures to provide benchmark data.
Group Focus reports give you the ability to turn your point of view around and see attainment, progress and attendance data in one place for specific categories of pupil such as SEND or ethnic groups. Tracking your disadvantaged pupils becomes much easier when you can see them as a whole and drill down to individual groups such as FSM, Looked After or Ever6.
To see more of RM Integris' assessment capabilities, contact us to arrange a demo.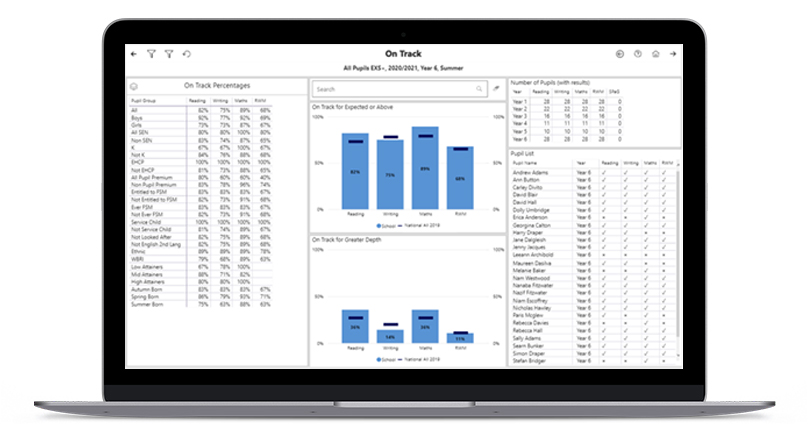 Group Focus reports can show data for different pupil groupings in each subject.
The Cohort Analysis report gives a view of achievement for any given cohort over time. As with the other reports, simple filtering allows you to display information for different groups of pupils.
Spend less energy on data wrangling, more on planning and implementing
To create these reports, and the others available via helloData, you do not need to export data from your MIS and import it into a reporting package. helloData just pulls the information automatically from RM Integris to display the information. The reports' interactive visual nature makes the data easy to work with. This means that you can spend more of your time using the data to plan and implement strategies, and none of it moving data from one place to another to create the reports.
Not only can the reports be created for a single school, a multi academy trust or local authority can combine data from any or all of its schools that use RM Integris. Anonymised versions are also available for sharing with governors or other stakeholders.
What RM Integris users say about how it supports their assessment process:
"We are very pleased with RM [Integris] thus far; it is unique in that it has given us the freedom to tailor our own assessment system to the needs of our school, something which no other assessment system was able to offer us".
Assistant Headteacher, Primary School, Camden
The flexibility you need
Switching to a new MIS to help meet your school's assessment goals would be counterproductive if the new system isn't a flexible one. It needs the flexibility built-in to make the transition simple and to meet your changing needs. RM Integris uses markbooks to record pupil attainment data and they're set up to be flexible and easy to use. Each user accesses only the markbooks allocated to them from easy-to-understand menus.
Other elements of RM Integris markbooks that make them the ideal way to work with assessment data include:
Existing marksheets from other MIS systems can be reproduced in RM Integris.
Layouts can be tailored to your school's needs with existing grade descriptors, data columns and other features carried over.
Grouping markbook columns for data entry makes it easy for teacher to focus on the right columns, aiding quick and accurate data entry.
Each user can organise the markbooks in their own folder structure which makes sense to them.
Each markbook can display contextual information about pupils as additional columns and filter the display using the same data.
Users can add notes to individual assessment entries or pupils to record specific information which can then be pulled into a termly report.
Whole cohort details such as average grades or counts of the different entries can be added.
It's easy to allocate each user access to only the markbooks they need, and prevent them seeing the ones they don't.
All types of data can be entered including formative outcomes, teacher assessments, tests and comments.
And, if you're the type of person who still likes to have a paper copy in your hand for meetings it's easy to export a markbook for printing.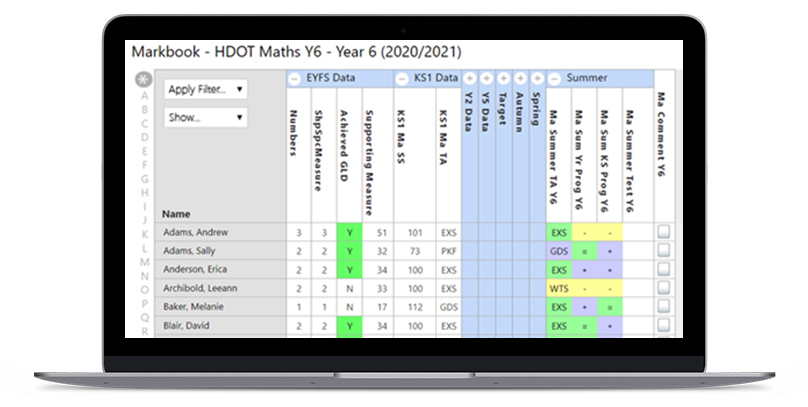 Integris Markbooks show exactly the columns you need to see to make data entry fast and accurate, and none of those you don't.
Your MIS can be the right choice to record and analyse your assessment data, reducing spend on different software packages. The first requirement for success is choosing a system with the flexibility to continue working your way. The other is having easy to access real time data reporting and visualisation to inform and monitor your improvement strategies. RM Integris is the perfect choice.
For a demonstration of how RM Integris and helloData can help your school meet its assessment goals
contact us now.