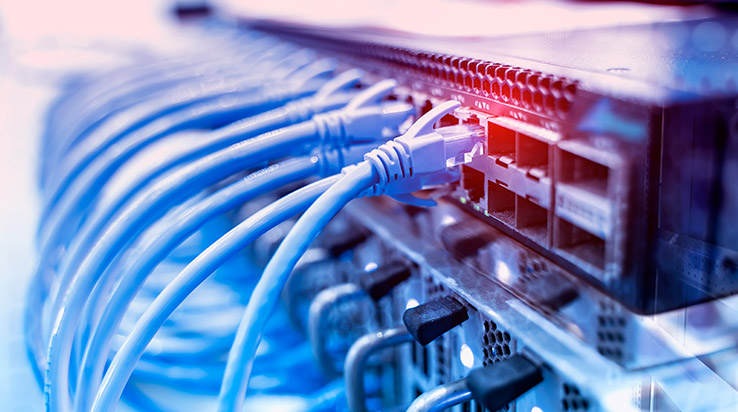 Network switches are possibly the unsung heroes of IT networking. They perform an apparently simple task, but if they stop working, everyone soon knows about it. The DfE has published network switching standards to help schools and colleges understand how to ensure that their network meets the needs of a modern school.
What is a network switch?
Network switches connect individual devices in a school to one another and pass data between them, ideally quickly and securely. They are categorised as unmanaged or managed switches. Unmanaged switches merely allow more devices to connect to the network. Managed switches do the same but also offer more control over how different network traffic is prioritised or allocated access to the network. Managed switches can also have security features built in.
Switches need to be of sufficient capacity to handle the amount of data passing across the network and configured to meet the school's needs. If not, you will experience the dreaded buffering sensation when trying to access digital resources and information.
Deadline for complying with standards
If you are unsure whether your school's network switches currently meet the standards, there is no need to worry straight away. The DfE standards do not give a timescale in which you need to upgrade. Instead, schools should meet the standard when needing to upgrade an underperforming or unsupported solution. To identify any unsupported network infrastructure, IT staff should regularly check its status with manufacturers. Identifying an underperforming network is more complicated.
Alternatively, a scheduled maintenance or configuration review could reveal the need to upgrade, at which point any new hardware should meet the standards. The specific hardware and software this entails will vary depending on the particular circumstances of your school. Making the right selections to achieve this can be challenging.

Technical criteria for school network switches
The standards set out four categories that schools need to meet. The categories are
Switches should provide fast, reliable and secure access for every user. This means at least 1Gbps connectivity to the user device.

There should be a central management platform for the switching infrastructure, providing the ability to monitor and configure all aspects of the network from a single platform.

Switches should have security features to protect users and data from unauthorised access.

Core switches should use uninterruptable power supplies (UPS) to reduce the impact of power interruptions.
Read on for more information about key themes in the standards and why these are important to consider and implement.
The right hardware to meet the standards
Networking in a school often involves many components and connections. In many cases, the infrastructure has been developed in an ad-hoc fashion over time as new devices are added. This can create bottlenecks with some parts of the school having better network speed than others or newer devices not working to their full potential. This can disrupt teaching and learning or vital administrative work.
The standards include specifications for power over ethernet (POE) connections and the number of individual device connections to support. Some requirements may not seem relevant to smaller schools. However, there are probably more devices connecting to the network than you first think. RM are well placed to provide a realistic assessment of your current and future network needs.
Centralised management for control and monitoring
Any new switching hardware should be part of a centralised network management package with appropriate warranty, support, and automatic software update functionality.
With the correct training, a well-designed centralised management solution will reduce the time needed to configure, monitor, and maintain both your switches and broader network.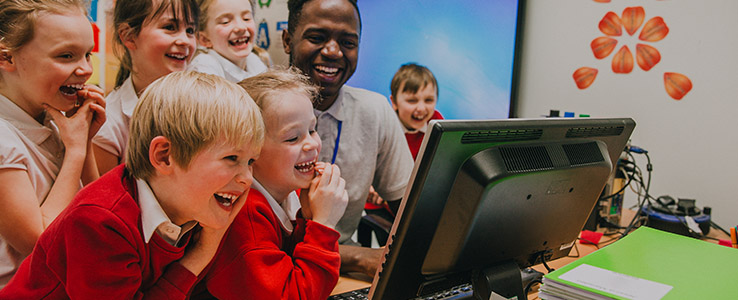 Security to protect your school's network and users from unauthorised access
Every school's network stores and transfers sensitive data. The leadership team is responsible for ensuring it is protected from unauthorised access whilst ensuring that legitimate users can access the resources they need.
Network switches can be a vulnerability like any other element of network infrastructure. As part of the overall network design, switches should be configured for traffic separation, security and quality of service. This should not impact network performance and should take account of the school's environment.
Besides securing the hardware, the setup and management of users must be secured and documented. The implementation of this part of the standard will vary depending on the individual network and what data is transferred and stored locally.
Core switch redundancy and resiliency
The core switch is the heart of the network that connects all aspects of a school's network and ensures that data gets where it needs to. If this switch fails, it will stop your network from working, causing disruption to teaching and learning and school administration.
The critical core switch and its connections must be designed so that a single failure will not disrupt the network. This will include redundant power and management provision and multiple connections to infrastructure elements such as servers, routers, and edge switches.
Updating network switches can be part of a wider move to modernise the overall approach to technology. Contact us to discover how it can underpin excellent teaching and learning in your school.
We've also written blog posts about the DfE standards for broadband, wireless networks and cabling to help you understand how to get the best network connections for your school.