The latest developments in the school management information system (MIS) market have led many schools to consider whether their current package meets their needs. RM Integris, our cloud-based MIS, is a popular choice for primary and secondary schools in the UK. We are committed to continually investing our time and energy to update its features, so it provides the performance schools need. Here is a taste of the product developments since the turn of 2022.
Simplifying communication with parents
Creating emails to parents/carers in RM Integris is now easier, thanks to recent updates. We have added mail merge fields for emails. This means that information held in RM Integris can now be placed directly into emails as they're created alongside other text. There is also a 'What you see is what you get' (WYSIWYG) preview to check that everything appears as intended.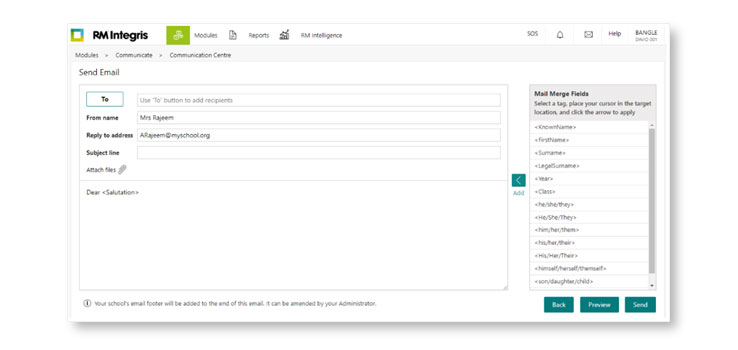 Using mail merge fields in emails created using RM Integris
Standard text to cover disclaimers or confidentiality notices often appears as a footer at the end of every email. It is now possible to include this as a default by setting up standard footer text rather than adding it each time.
Managing parental consent in the Parent Portal app
We have added the ability for parents and carers to provide consent for their children for various school related items and activities. Previously parents would have updated a student form perhaps once or twice a year whereas now they can change a consent item at any time they need to.
The school approves every consent item granted by a parent or carer before the individual child's record is automatically updated in RM Integris. If the parent or carer sets parental consent as denied, the change automatically feeds through to RM Integris without the school approving the change, although it can acknowledge receipt.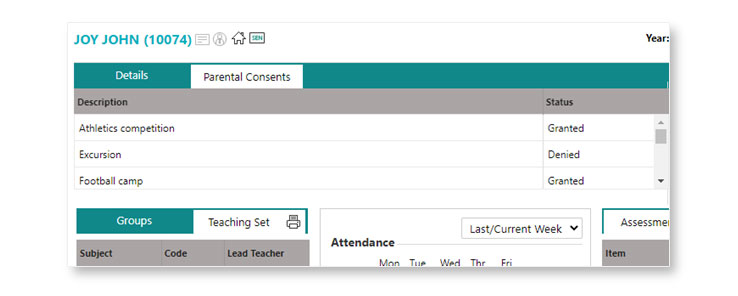 Easily see consent status in each pupil's record
Making everyday tasks easier
User feedback told us that it would be helpful to have the search box and advanced search functions on the welcome screen. This means that individual student information is now directly accessible from the welcome screen.
Teachers already find the markbook functionality in RM Integris easy to use. To give each user improved access to their own markbooks we have split the view of My Markbooks and Other Users Markbooks into two tabs.
RM Integris now automatically sets the correct key stage for a pupil when they are added manually or imported into the system via an admission transfer file (ATF) or common transfer file (CTF). This removes a previously manual step, saving administrative time.
Having delivered these product improvements, our in-house development team are busy working on more ways to make RM Integris even better. You can sign up for the RM Integris newsletter to get the latest updates.
If you're already an RM Integris customer, you can now use this additional functionality. To find out more, contact your account manager.