The leading cloud-based MIS for UK Primary Schools
With more than 2,400 schools choosing RM Integris as their school management information system, discover the benefits of switching your MIS today.
This brochure includes
Read about why RM Integris is right for your school

Understand more about some of the key features, such as Parent Pay and helloData Reporting

Start planning your switch to RM Integris plus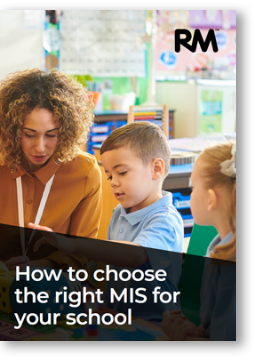 The guide includes
How to decide what functionality matters to you

How to choose between different suppliers

Managing different stakeholders in the process
"Any school who has not reviewed their MIS system for a while should do so now. There are so many other options out there, and you may be pleasantly surprised – both with the functionality and the cost savings you can make".
RM Integris helps Local Authority Maintained Primary Schools:
Improve flexibility
Efficiency
Greater insight
How RM Integris helps Multi Academy Trust Primary Schools:
Consistency and control
Clearer visualisation of data
Easy comparison of key metrics
Our powerful suite of recording, analysis and reporting tools allows you to easily interpret the data across your systems and schools, identify key trends and take appropriate actions to improve performance.
A smooth migration process and our outstanding support services means nothing gets in the way of your mission.
"Being able to have the system updated whilst we are not here has saved a tremendous amount of time. Previously, an IT technician would have to come in and run the updates, whereas now we just come in knowing that it's already done for us."
back to top button