Why choose RM Voice?
Intuitive – easy to use & manage
Cost effective – all features are
automatically included with your licence
Assured call quality
Highly resilient, with multiple failover options
Flexible, simple licensing from only £6pm per licence
Accessible from anywhere, on almost any device
A huge range of call, systems management and security features – designed for education
Order before December 31st 2023 for free installation
* Terms and conditions apply. See rm.com/terms
Designed to meet the needs of schools
Security alerts
and paging
Helps you meet DfE and Ofsted requirements, including preparation for a lockdown event without the need for additional tannoy systems
Scheduling
and routing
Set holiday and inset dates in advance, and schedule or manually toggle night mode, call forwarding and more
Student
support lines
Allow students to anonymously record messages to report bullying, express wellbeing concerns and other safeguarding matters
IVR and
recorded messages
Interactive voice response can inform or redirect callers without you even picking up the phone
MIS
integration
Sync all your telephone contacts and other data from your school management information system
Free
inter-site calls
For trusts and federations (or anyone using RM Voice)
UK PSTN Switch-off
BT Openreach announced that the traditional telephone system in the UK will be switched off at the end of 2025.
Indeed, since the start of September 2023, buying or adding to existing analogue services is no longer possible. This means that all schools will need to replace their existing analogue public switch telephone network (PSTN) telephony systems with a digital one that routes calls over the internet.
If your school still uses a traditional telephone system now is the time to start planning which alternative services you will migrate to.
A solution ideally suited to your school needs
As the core system is cloud hosted, you have complete control over how you wish to manage your devices. Each licence allows you to be logged into five devices simultaneously: up to two physical handsets and multiple softphone options.
Leading handset manufacturers
Buy outright or lease handsets alongside your licences. A range of handsets is available to meet the needs of different users within your school or trust.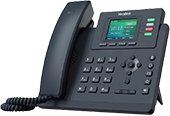 Our recommended classroom device: Yealink SIP-T33G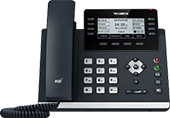 Our recommended reception device: Yealink SIP-T43U
Powerful softphone app
The Web Real-Time Communication (WebRTC) cross-platform interface synchronises features across the desktop, laptop and mobile apps so that almost any device with a modern web browser can become an extension of your telephone system.
If a staff member in the playground needs to be contacted or raise an issue, RM Voice is available right from their mobile phones.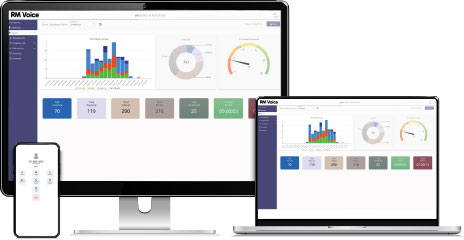 Did you know?
We can also supply mobile phones with
any of the big 4 networks

back to top button