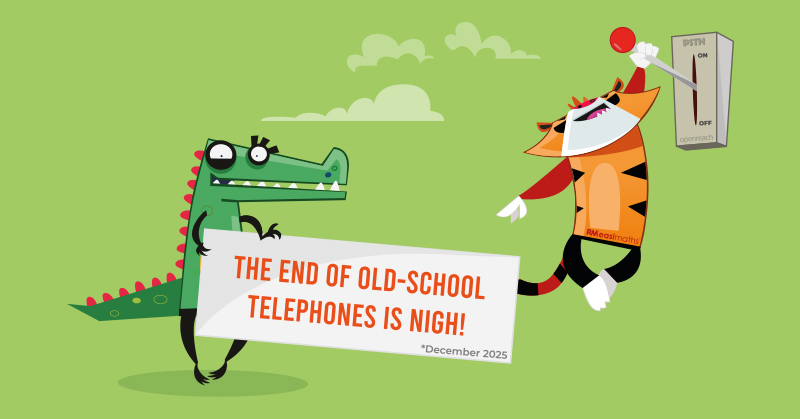 If you work in a school, you may have heard that the traditional phone system will be switched off in 2025. Indeed, since the start of September 2023, buying or adding to existing analogue services is no longer possible. This means that all schools will need to replace their existing analogue public switch telephone network (PSTN) telephony systems with a digital one that routes calls over the internet. These systems are typically called voice over internet protocol, or VoIP. RM has developed a VoIP telephony system specifically for schools and multi-academy trusts, called RM Voice.
Other countries such as Germany, Japan, and Sweden are further along the process of making the switch. Estonia and The Netherlands have already done so and have switched off their PSTN networks.
This blog post explains what is happening and what schools need to do to prepare for the change.
What is VoIP?
VoIP technology allows you to make and receive phone calls using your internet connection instead of a traditional phone line. VoIP converts your voice into digital data packets that are transmitted over the internet and then converted back into sound at the other end. It has many general advantages over PSTN, such as:
Lower costs:

VoIP calls are usually cheaper than PSTN calls, especially for long-distance and international calls. Multi-academy trusts, in particular, can also save money on maintenance and equipment costs since you don't need a separate phone line and phone system for each location. Calls between the locations on the same VoIP network are often free of charge.

Higher quality:

VoIP calls are usually clearer and more reliable than PSTN calls, as they are less affected by interference and noise.

More flexibility:

VoIP allows you to use any device with an internet connection and microphone, such as a computer, a smartphone, or a tablet, to make and receive calls. You can also use the same number across several devices and locations, which makes it easier to stay connected and accessible.

More functionality:

VoIP offers many features that PSTN does not, such as intelligent voicemail, call forwarding, call recording, automatic caller routing, call blocking, and more. VoIP can also integrate with other applications and systems, such as email, the school's MIS, or online learning systems.
Specific benefits for schools and trusts
The removal of the PSTN network offers schools and trusts an opportunity to improve their communication and collaboration capabilities. While some of the benefits of switching will be available from VoIP systems not designed to meet the specific needs of educational establishments, choosing one that has, such as RM Voice, could be transformational. For example:
Third-party integration:

This feature allows teachers and students to access and use various educational tools and applications during a video conference or a phone call. For example, teachers could integrate Google Classroom, Moodle, or Kahoot to assign and mark homework, share resources, and create quizzes.

IVR, call routing and dedicated numbers:

these features allow schools to set up automated menus and greetings that direct callers to the correct department or person. For example, RM Voice can provide a specific number for reporting absence. Or, the system could route certain callers automatically to a specific person. Different options are also possible to handle calls based on the time of day or school holidays and inset days.

Accessibility features:

schools can easily accommodate the needs of students and teachers with disabilities or special requirements. For example, RM Voice offers text-to-speech, speech-to-text, closed captioning, sign language interpretation, and hearing aid compatibility.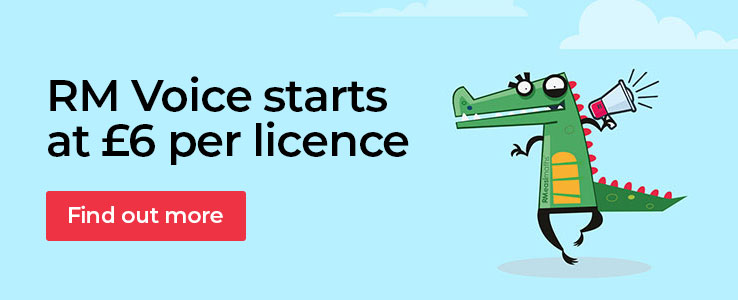 What do schools need to do?
If your school is still using an analogue phone system, you need to act now to avoid rushing a decision and potentially regretting your choice later. Here are some steps that you can take:
Assess your current phone system:

by working out what type of phone system you have, how many phone lines you have, how many extensions there are, what features you use, and how much you spend on your phone service, you can make informed choices about the type of VoIP system you need. You should also plan for future developments, such as new buildings or re-purposing existing spaces. Finally, are there any features you wish your current telephone system had? Chances are that a VoIP system could make them a reality.

Consider 'hidden' users of PSTN systems:

there are often systems in schools that use phone lines for more than just phone calls. These include door entry systems, alarms, payment terminals and more. They could all be using your old PSTN phone lines. Upgrading to digital will impact how these other systems work, so it's crucial that you track down everything that's running off your PSTN and ISDN lines.

Ensure your connectivity can cope:

like other cloud technologies, VoIP systems require a high-quality internet connection to deliver crystal clear voice calls, video conferencing without buffering, and real-time collaboration tools. Your broadband connection and internal networking need to be up to the job. Upgrading to digital telephony services presents an excellent opportunity to review your internet connectivity.

Plan your migration process:

You need to plan how to switch from your old phone system to your new VoIP system. You should also consider how you will train your staff and potentially pupils on using the new system.
Conclusion
A digital system such as RM Voice is the future of telephony for everyone. Every other organisation will need to make the same change. There are many VoIP system providers, but relatively few understand the unique requirements of schools and trusts. By choosing carefully, you can benefit from a system that will help staff, pupils and your other stakeholders now and in the future.
RM Voice is designed to meet the specific needs of schools and starts at £6 per licence. Find out more