What's new in RM Unify?
I delivered a 'What's New' webinar at the end of January on the RM Unify V3.34 release. You can watch the recording of this webinar here: https://youtu.be/JDF3ONgXEms
Key Updates
Notifications: A new notification bell will feature in the top right of the user interface. This will enable notifications to be pushed to users and sub-sets of users. Release v3.34 enables the bell, however you will have to wait until v3.36 (Mid-March) to get access to the admin console to deliver your own notifications. In the mean time we will be pushing occasional notifications out from RM Unify HQ so you can see it in action.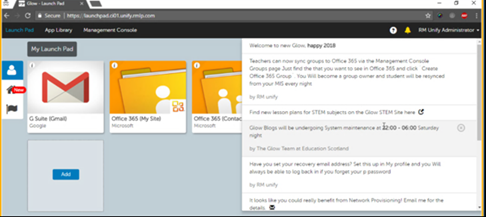 Licensing: We know that lots of customers have other services dependant on RM Unify. To help you manage various licences, in release v3.34 we have updated the RM Unify Subscription area in the Management Console so you can get a clear overview.



To find out more about RM Unify, please visit www.rm.com/unify