Honolulu. The iconic city on the island of O'ahu, capital of Hawaii and famous haunt of Hawaii Five-O. You'd be forgiven for thinking this was a travel blog, but it isn't.
Project Honolulu is the code name for Microsoft's new management tool, which recently moved from Private to Public Preview. I had to stop myself from calling it a new server management tool there, as there's more to it than that, which will become clearer as you read on.
It's not quite as exciting as a trip to Hawaii, but it is a pretty interesting development which could underpin the introduction of 'Windows Server as a Service' in some deployments while facilitating consistent management of more traditional server deployments.
So, what is it?
Simply, it's a locally deployed management tool that enables broad management of a network's server infrastructure from a single pane of glass. So far, so good. But that probably doesn't do it justice.
The interface is very Azure-like; it brings together a variety of what to date have been disparate management utilities - features from tools such as Disk Management, Firewall, Certificate Manager and Event Viewer are consolidated into one place, providing a much cleaner experience.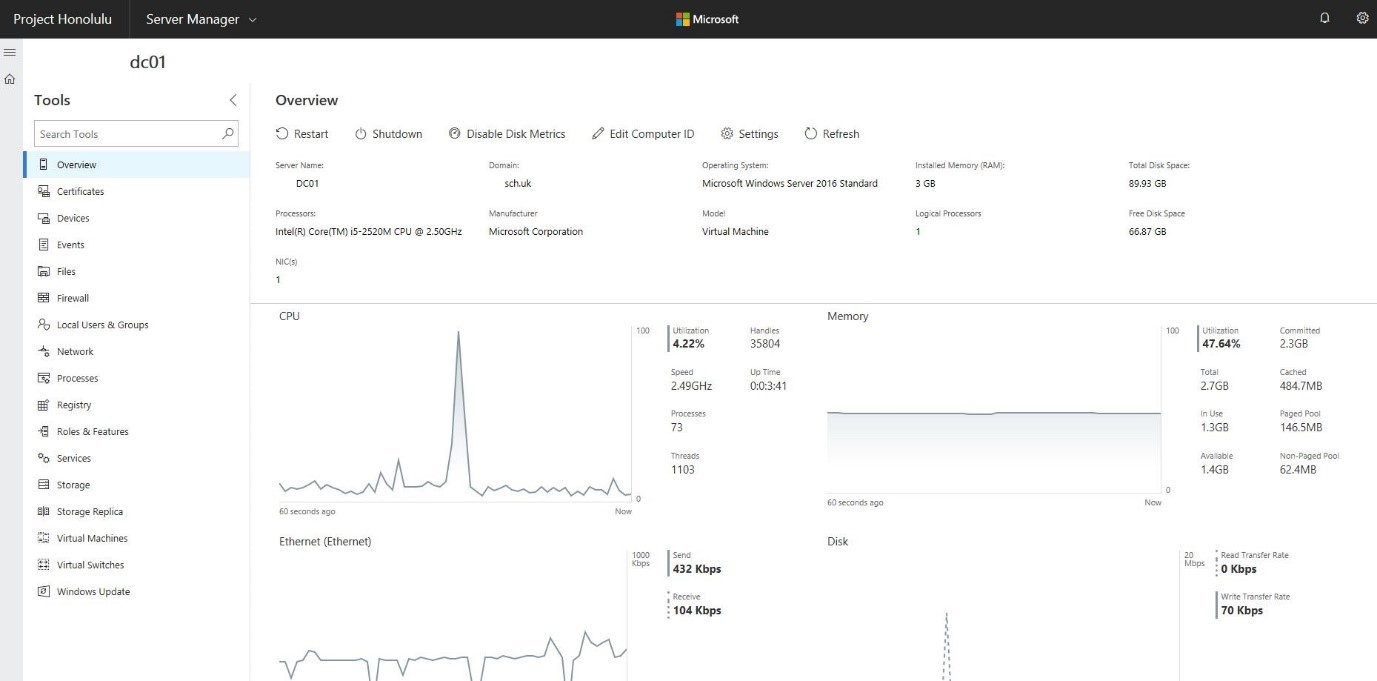 And despite the Azure-like look and feel, unusually - compared with a lot of recent developments from Microsoft - it doesn't require cloud access (even Azure!), or Internet access. It's a fully local solution.
Deployment
There are a few options when it comes to deployment, but first, it's worth being aware of some pre-requisites and context:
The Project Honolulu interface runs in a modern web browser. At the time of writing, Microsoft Edge and Google Chrome are the supported browsers. Given that Edge and Chrome are not native to Windows Server 2016 LTSC, it further supports the view that this is best used for remote management from a suitable client. You won't get far with IE:
Installation is supported on Windows 10, Windows Server 2016 and Windows Server v1709.
Servers that can be managed ('managed nodes') must be Windows Server 2012 or later (i.e. 2012, 2012 R2, 2016, and Windows Server v1709). There's another good reason to get rid of those old 2008 R2 servers!
Communication from the management app to the managed device(s) is via PowerShell and WMI, over Windows Remote Management (WinRM); PowerShell features are required that are not native to Windows Server 2012 or 2012 R2, therefore Windows Management Framework v5.1 or above must be installed on any such server to be managed. No agent to deploy!
Deployment Topologies
The lightweight installer (at circa 30MB) can install two components – a 'web server' (the app) and a gateway component which runs as a service, using REST APIs. Correspondingly, the deployment topologies deal with where those components can be installed.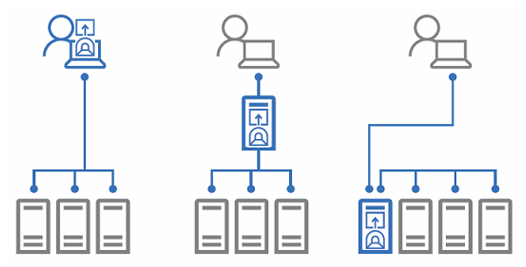 Option 1 - the simplest deployment - involves installing Honolulu locally on a Windows 10 management client. A shortcut is put in the Start menu and optionally on the desktop, or you can simply connect to the app by typing localhost:6516 into an Edge session. 6516 is the default port, which can also be changed during installation. This type of deployment is probably suited to networks with small numbers of servers.
Option 2 is to designate a dedicated gateway server. Installation in this way facilitates access from any supported client browser, assuming connectivity and access rights to the gateway server. As we tend not to have the luxury of a dedicated server, this is likely to be the least frequently used option.
Option 3 is to install on a 'managed node' – a server that will act as a non-dedicated management gateway similar to option 2 but is also a server to be managed via Honolulu. This is the most likely deployment topology for those with a greater number of servers - such as secondary schools – and can also facilitate extended management functionality of clusters and hyper-converged clusters.
With appropriate supporting configuration, gateway deployments facilitate server management from anywhere.
Once installed, adding servers into the app is straight forwards; they can be added one by one, or imported from CSV.

Okay, so it makes my life a little easier through consolidation, but it's not giving me anything I can't already do. Why should I care?
Well, yes, that might be the case right now but it's still a lot easier to manage multiple servers from a single point, right? Even so, where it becomes more interesting is that it provides GUI-based management of GUI-less servers. If you've read my previous blogs on Windows Server Servicing you'll know that Server Core is the most applicable option to leverage Windows Server (as a Service) for typical UK schools' solutions, and so far, uptake of Server Core is relatively low – so in that space it could become a real enabler.
Honolulu can also contribute to an easier management experience as networks evolve from on premise, through hybrid, and onwards to a fully cloud solution. With an appropriate supporting configuration, Azure IaaS virtual servers can be added to the Honolulu single pane, bringing management of all servers together, whether they are on premise or in the cloud.
Extensibility & Future Development
Honolulu is designed in a modular way – extensions can be installed or uninstalled. The first public preview came with Server Manager, Failover Cluster Manager and Hyper-Converged Cluster Manager modules – meaning it can manage a Storage Spaces Direct cluster. A subsequent release has also added Remote Desktop, PowerShell and the ability to manage Windows 10 clients (via Computer Management, in a limited way).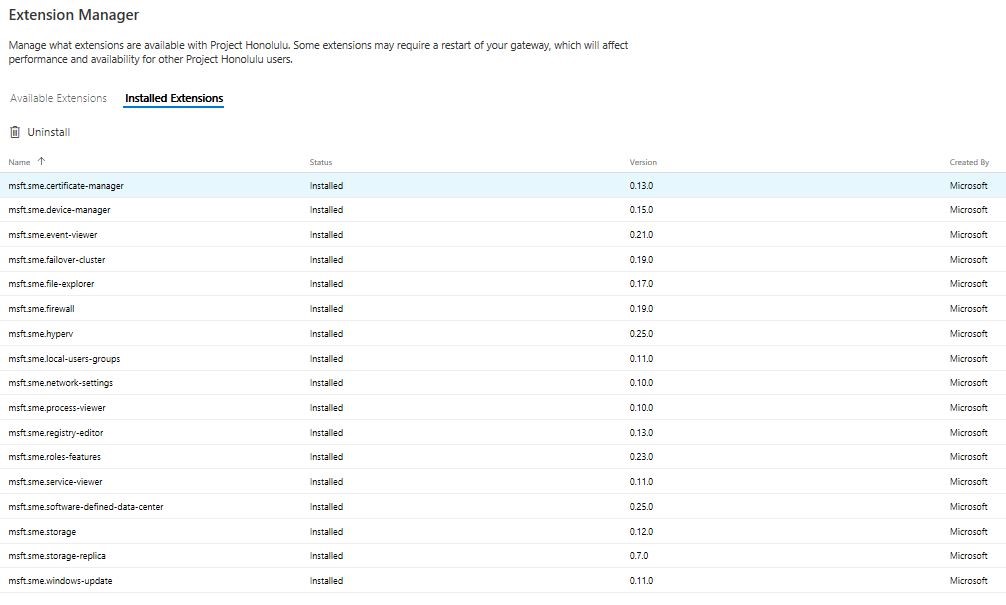 Development won't stop there though; Microsoft have indicated an intention to release updates on a regular cadence. In the session I attended at Microsoft Ignite, it was suggested the update frequency would be 'more than twice per year', so it sounds as though the experience is going to get richer, quickly. And of course, it's still in preview so could change further before general availability.
To quote Microsoft, general availability is expected 'sometime in 2018', so I wouldn't be too surprised if there were more extensions available by the time we get to GA.
MSP usage, and other models
Microsoft's indicated target audience for Honolulu is enterprise network managers – largely speaking, single networks. So, it's unlikely to develop in a direction that makes it suitable as a single tool for remote management of lots of disparate networks. Or at least not on a global scale; it may yet prove to be useful not only for individual network server infrastructure management, but possibly also for those responsible for clusters of schools, or Multi-Academy Trusts (MATs).
Arguably, global-scale level management isn't necessary anyway if you've already got the ability to execute PowerShell and WMI scripts across your networks – as that's what it's doing under the covers.
Having discussed Honolulu's development with members of the Microsoft team developing it, I put forward the idea of batch processing capability – the ability to perform the same management task on multiple servers simultaneously. That strikes me as something potentially useful to UK schools and there was interest in the idea. If it appears in a future release, you know who to thank 😉
Conclusion
Project Honolulu is a valuable – and free - addition to the server and cluster management armoury. Even though it's still in Public Preview it provides useful consolidation of common management tasks into a single pane, as well as some simple server and cluster health monitoring.
It will help to ease the pain of transition from the familiarity of Server with Desktop to Server Core, acting as an enabler and unlocking benefits such as reducing the server footprint and with it, security risks, as well as making 'Windows Server as a Service' more accessible.
And it's only going to get better.
It seems the greatest challenge the team developing it has is agreeing on a name, which is why in preview it's still referred to as Project Honolulu.
I'm interested to hear the name they'll settle on. Even better if they want to invite me over to Hawaii for the launch, to tell me in person. That's one I'm prepared to take for the team.
Key Takeaways
It facilitates server and cluster management from a single pane of glass
It's free (covered by Windows Server license), easy to use, and agent-less
Functionality will extend on a regular cadence
GA is 'sometime in 2018'
It's an enabler for Server Core, and by extension, 'Windows Server as a Service'