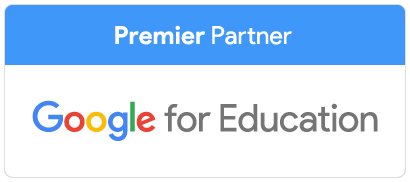 We are pleased to announce that RM is now a Google Cloud Technology Premier Partner specialised in education. Google Cloud technology partners build apps and tools that extend the functionality of Google's core products. The program was designed to recognise technology partners for their success and offers them technical, marketing and sales support to help them bring their products to more people. RM is delighted to announce that we are joining a select number of UK based companies in the Google Cloud Partner Program.
Over the last five years RM has been working hard developing products such as RM Unify, RM SafetyNet Go and our Google Cloud deployment services, to make sure we are supporting schools in getting the most from Google Cloud. Our complementary tools range from filtering software to keep Chromebooks protected when they are taken home, to identity management tools to make it easier for you to manage users in Google Cloud – find out more about our range of products and services below.
As a Google Cloud Technology Premier Partner, RM will get advance notice of product launches, exclusive training, and access to demo and testing environments that will provide our customers with a direct line into Google Cloud and allow us to provide the best services possible.
Mark House, Senior Product Manager for Google Cloud at RM, said "RM is a trusted Google Cloud partner and we're delighted to be part of this select group of companies now joining the technology track with a specialty in education. It shows both Google Cloud and RM's ongoing commitment to helping schools get the most from education technology."
Emma Fish, Head of Education Technology Partnerships at Google for Education, said "RM Education has been a Google for Education Services Partner in EMEA for the past few years, and we are thrilled to see RM extend their partnership by becoming a Google for Education Technology Premier Partner. The RM Unify platform simplifies sign-on and management of technology products in the classroom, which will benefit schools using Google."
To find out more about how RM can support you, contact uswww.rm.com/contact
Read more about the RM products that work alongside the Google Cloud tools to make additional cost and time savings for schools.
RM Unify
RM Unify provides a single Launch Pad where you can access all of your online apps, Google Cloud and Office 365. Intelligent identity and access management that saves you hundreds of hours in network, platform, apps and device management.
Find out more at www.rm.com/rmunify
RM SafetyNet Go
Our cloud-based Internet filtering software for browsers protects your students both in-school and at home. You control what filtering is appropriate for each user, then with a few simple clicks you've deployed - users are protected and you're in control.
RM SafetyNet Go allows you to sync users from multiple sources including RM Unify or directly from Google Workspace for Education.
Find out more at www.rm.com/buzz
Google services
Our Google for Education services are flexible and scalable to work to your ICT requirements, helping you make an easy transition to Google Cloud at your own pace, whilst reducing the risks and impact of change.
Training
RM Education are a Global Summit Partner of Apps Events. Apps Events work across the world to deliver Google for Education summits, bootcamps, cloud camps and training.
Email google@rm.com for more information.
RM Recommended Chromebooks
Using our 40 years of experience in manufacturing hardware, we have tried, tested and validated a range of hardware, specifically for UK education to make sure that your devices are fit for the classroom.
See the full range of recommended hardware at www.rm.com/store