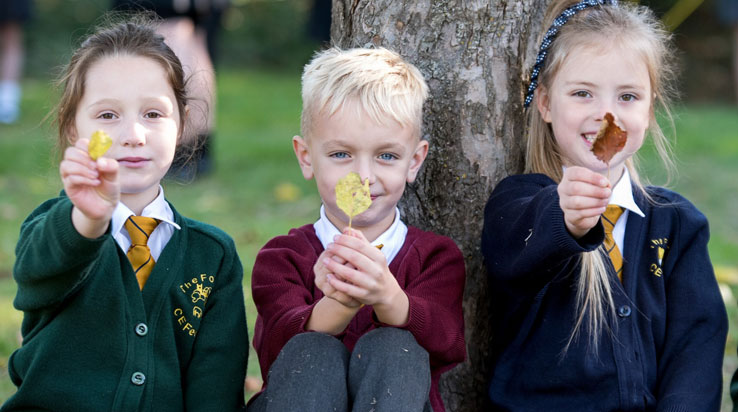 The background
Forest Federation comprise four small, vibrant rural Primary Schools based in South Northamptonshire – Whittlebury CE Primary School, Tiffield VA Primary School, Stoke Bruerne CE Primary School and Gayton CE Primary School.
The schools range from 45 to 75 pupils with a talented team of teachers and staff working to create rich learning experiences for the children.
"We are passionate about smaller schools and are not weighed down by the challenges that larger schools face. We see ourselves as a big family across four sites".
Eliza Hollis, Executive Headteacher
The challenge
Like many schools, technology was not the place they started their journey, but it quickly became a stumbling block. The leadership team had set about modernising their schools before understanding that IT would be a significant barrier to future success.
"Our servers were nearly a decade old, and full. Technology had moved on, but we hadn't".
Dan Lister, Chair of Governors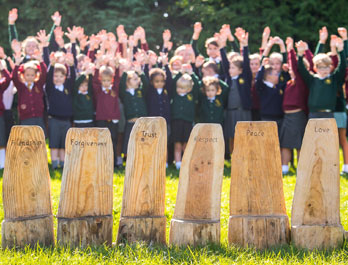 With staff and pupils frequently working across multiple sites, they realised that they were all carrying heavy laptops and tablet devices on every trip. On arrival at each location, they needed to log in to local networks, remembering different passwords and were often unable to access the files they needed. Each school had a slightly different set-up and procurement of replacements was not cost-effective. The Federation put tender together to find a new IT partner.
"We were honest in that we were not looking to save money – what we wanted was the best solution for our needs, and something that could grow with us".
Dan Lister, Chair of Governors
Selecting a technology partner
Despite some reservations in the school leadership team about working with a large corporate entity, the leadership team met with RM and were impressed with the initial sales pitch, and over subsequent meetings a real bond was formed. RM's proposal also proved to be the best value, outscoring the three other suppliers on cost and quality.
RM and the Federation's Business Manager worked together on the business case, and RM recommended a number of opportunities to gain extra funding – including the DfE digital education platform scheme as well as supporting the Federation's application to the Government's Rural Gigabit Connectivity (RGC) programme.
"I was looking for honesty. RM were very clear on what it would cost us – I didn't feel we would be hit with a load of hidden costs. It felt like a genuine partnership".
Dan Lister, Chair of Governors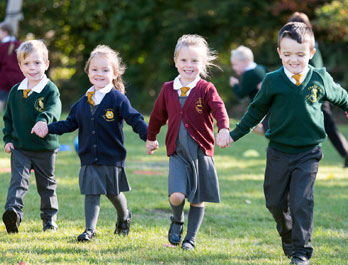 Gaining buy-in
As with any investment, getting buy-in is critical. The Federation's Deputy Head – who is also the Computing Lead – joined many of the early meetings with RM, representing the teachers, listening to the strategy and translating that into what it would mean in the classroom. The School Business Manager did the same, on behalf of the administrative functions of each school, representing the users who would be using the system to run the schools.
In parallel, the leadership team took the Business Case to their governors, who challenged but ultimately backed the rationale that underpinned the proposal.
The solution
RM bought the schools out of their existing connectivity contract, replaced all their physical servers with cloud services, rolled Microsoft Teams out across each school to support remote learning and replaced all computer devices with modern, ruggedised computers on a 1-for-2 basis.
RM installed RM services to improve remote capability and provide access to all teaching and learning resources and provided screen sharing capability so pupils' devices could display work seamlessly on the new plasma screens. With the move to the cloud, these new devices needed less local storage and processing power, making them more affordable.
RM installed wireless connectivity throughout all buildings, removing cables that had previously clogged up workstations and benches.
RM replaced each school's traditional analogue telephone system with internet enabled VOIP network that routes calls to wherever staff are located on any given day.
RM helped the schools apply for the respective government and supplier grants and rebates and set up a concierge service to benefit from an HP Trade-In scheme, whereby RM would manage the collection and return of some 100 devices, processing the rebates from HP back to the school.
Further benefits
Like most schools, Forest Federation has students with varying needs. RM highlighted a number of helpful tools they could consider, including an Immersive Reader for those students with a visual impairment.
Other students are now able to access dictation software (using existing features within Office 365), allowing them to produce work that would have proved challenging before. The newly negotiated licensing agreement with Microsoft also permits parents to access the system from home, at no extra charge.
RM arranged training for all staff and ensured that the school were fully GDPR complaint – replacing outdated and potentially weak processes, such as local file storage.
Most issues can be managed remotely via the new cloud-based set-up, but RM also put in place a support structure via a single phone number to call for everything, coupled with emergency Technical Support. All warranties on hardware have been secured so that engineers are on site the next day in the event of any breakdowns or outages.
Historically, the school had taken a range of licences and warranties for their software and services on an iterative basis. RM replaced all of these with a simple proprietary licence from Microsoft.
A smart financial model
The financial model has been designed to amortise all set-up costs over the term of the contract, with the school paying a flat subscription price for all services, and an operating lease for the hardware. This was arranged on a 'per pupil, per term' basis, which gives the school foresight and assurance of how much they will pay.
"I believe we are one of the most technologically advanced group of Primary Schools in the country. I do not know anyone who has done what we've done".
Dan Lister, Chair of Governors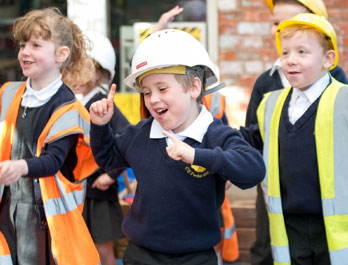 The results
In teaching and learning terms, the IT changes have allowed Forest Federation to share resources far more effectively and to a greater benefit of students and teachers. Teachers can log in from any location and share their lessons – they do not physically need to move resources around, which in a Covid world meant a fully social distanced way of teaching.
"If we have a teacher off sick, we do not need to find a Supply Teacher. We can just carry on as if they were still here – with a teacher stepping up from another school, taking lessons over MS Teams".
Dan Lister, Chair of Governors
This has revolutionised the way the school communicates – whether that's holding cross-school assemblies or getting all pupils to participate in group activities.
The technology itself is the latest available, and the schools know it will be replaced and upgraded well before it becomes end-of-life. The devices are all-in-one – operating seamlessly as staff (and pupils) move between each school in the Federation – including from home.
The schools route telephone calls and documents to members of staff wherever they are. BACS banking runs can now be done from a single school, with the respective line items forwarded to the appropriate person in another school.
"Our schools are now at the forefront of new technologies. Because of RM's relationship with people like Microsoft, our small Primary Schools in rural Northamptonshire have access to the experts in Seattle, USA".
Dan Lister, Chair of Governors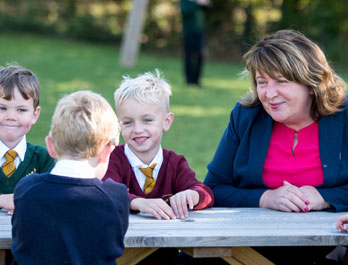 The cloud-based system can expand to meet the needs of the Federation. Scaling capacity is as simple as making a phone call, as opposed to the major planning (and budgeting) that would have been involved previously. Likewise, if the Federation adds new schools in the future, they can be accommodated in this modular approach.
The schools have complete control over their IT budgets. Staff in each school have access to the necessary training to make the most of the systems, and they know that RM is there in the background as they need more.
"We took the decision to start again. Some schools may feel they cannot do that, but I'm not sure I agree. Doing something like this can revolutionise any school. You don't have to be a brand new Free School to benefit".
Dan Lister, Chair of Governors
"This all-in-one solution is unique to RM. No-one else could have put this together – no-one else does it all. If something goes wrong, it is up to them to sort it. There's no buck passing about whose system is to blame".
Dan Lister, Chair of Governors
The lessons learnt
Have a vision. As schools evolve, their technology needs to change. For many schools IT can be an afterthought, with decisions made on the basis of what they have, not what they need. Set a clear vision for the future and go for it.
Invest in the future. The right IT is not going to be cheap, but it is an investment that creates efficiencies and supports performance elsewhere, often going way beyond justifying the investment by transforming the school. There are also many grants and rebates available, if you know who to ask.
Choose your partner wisely. Selecting the right technology partner is essential for success. Choose a partner who understands your needs, who you can trust, and from a company who will put your interests first.
Take people with you. People are often wary of change but getting their buy-in is critical. Indeed, not getting it can derail whole projects! Seek advice from those who implemented similar changes before.
Find a champion. Find an internal evangelist who your people respect and listen to, who can persuade even the most sceptical of audiences. Maybe it's you!
The cloud is the only solution. Being able to access files and documents anywhere, teach remotely, seamlessly move between buildings and scale at will are all necessities in today's school environment. That means cloud.
Make life easier for yourself. People working in schools are too busy to contact an army of suppliers when something goes wrong. Having one business responsible for everything, relieves the pressure, avoids conflict and means the school can focus on what it does best.
The legacy
Schools and the wider education system are changing. The Coronavirus pandemic has shown that remote learning is here to stay, and school staff have started to recognise the important role that technology can play in their roles.
At the same time, budgets are not getting any bigger, so schools need to make technology to help bring efficiencies in how they operate. Simply adding to what was there before is not sustainable.
"Technology will help us give teachers a better work-life balance – reducing time spent on creating and sharing lesson plans, on setting work and on marking what comes back".
Eliza Hollis, Executive Headteacher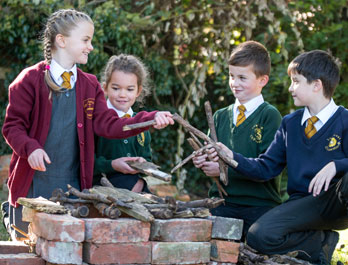 Download a PDF of the case study