It's been about a month since we released Version 4 of RM Unify which brought our users the refreshed user interface. Well, good news! we are now ready for our next release 4.2 which has some exciting new features:
Password policy & early years
In the RM Unify Management Console under the heading 'sign in and security', you will find a new feature called password policy. This will allow the RM Unify super admin to configure the password complexity requirement for different roles and year groups in RM Unify. Administrators will not be allowed to reduce the password complexity below the minimum that is defined by the system.
Having said that, it will be possible to lower the password complexity to the lowest setting only for year groups reception to year 6. This will not be configured by default; the RM Unify admin will have to make the decision in terms of what is right for their particular establishment: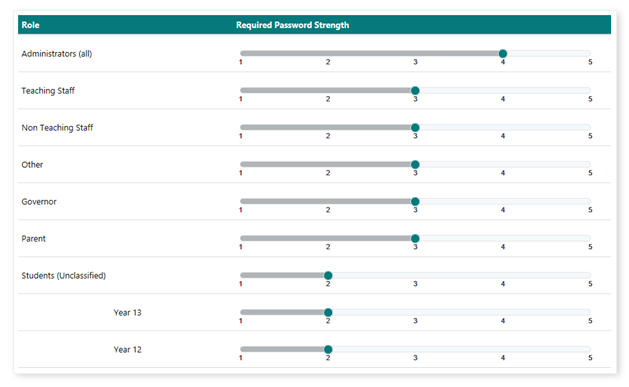 For more information please read the TEC article or install the RM Training Academy App from the RM Unify App Library and watch the tutorial for Password Policy.
Management Console UI improvements
Following on from the recent UI refresh, we have made further improvements to update the management console pages in line with the new style. Most of these pages will only be accessed in by the RM Unify Super Admin and will hopefully improve the overall experience of the platform.
Arbor MIS Sync
Arbor is the latest management information system that RM Unify will now support for MIS sync. When visiting the MIS sync settings page in the RM Unify Management Console, you will be able to select Arbor from the drop down options of different MIS providers. You will then be prompted to follow a link to a TEC article that will provide instructions should you wish to set up MIS sync using Arbor.