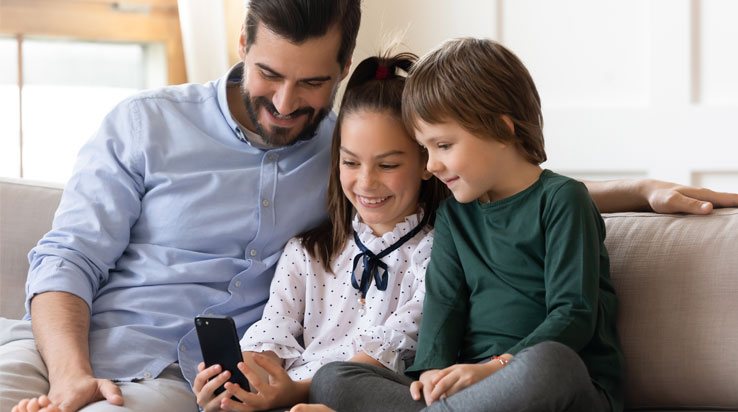 We are spending far longer online than ever before and parents and carers are having to balance the challenges of their working lives with their children's education and access to technology.
The internet has certainly been a saviour in many ways during the lockdowns and restrictions of the current pandemic. Many of us have relaxed our rules around technology use as we want our children to continue to communicate and connect with their friends. Technology is also being utilised more than ever in delivering education of course, at a time when many children have been learning from home.
There continue to be risks in keeping children safe online, however, and parents are forever weighing these risks against the benefits of internet access.
The theme for this year's Safer Internet Day on Tuesday 9th February 2021 is "Together for a better internet", calling on us to collectively make the internet a safer and better place for all.
Here are six ways parents can support their children in achieving this:
Recognise - recognise that the online world is very important for children right now (as for all of us). Not all of their interactions online will be negative or will have a negative impact on them. In fact, many of their interactions and game playing will be a welcome relief and an enjoyable escape from the current situation.
Explore - if you have young children, explore the apps and services they like, show interest and agree in discussion with them what's appropriate. Which games and apps they are allowed to access, who they can connect with, what they must ask permission for and how long they should spend online.
Conversation - have ongoing dialogue with your children about what they enjoy online and why, what they don't enjoy and what they can do if something upsets or bothers them.
Reassure - reassure your children that they can talk to you if something goes wrong. For many children, the biggest barrier to them telling their parents is the fear that they may have their technology removed. This may be appropriate in some cases but try not to over-react if the situation doesn't warrant it.
Boundaries - just like you do in the real world, set some boundaries (and this is challenging at the moment) agree what your family rules are, e.g. 'no phones at the dinner table' or 'no screens an hour before bedtime', and make sure that the whole family adheres to it – role modelling where you can. Ground rules can usually be supported with parental controls (such as Google Family Link), privacy and security settings within games and apps.
Signpost - signpost your children to sources of help, information and support where they can access info that they can trust. Ensure they know how they can report unkind or inappropriate behaviour on games and social media platform or block users if they need to.
Parents support their children in all aspects of their lives and navigating the online world is no different. Balance is key, having frequent conversations and encouraging open dialogue as well as supporting them if things go wrong.
The UK Safer Internet Centre is focusing on 'An internet we trust: exploring reliability in the online world'. By helping our children navigate the online world, enabling them to find and correctly identify trustworthy and reliable information and support, we can lay the foundations for the next generation to continue to improve positive online experiences.
About our guest blogger:
Charlotte Aynsley has extensive experience in the field of internet safety, working with high profile organisations including Becta, UKCCIS, CEOP and the NSPCC. In 2013 Charlotte started her own consultancy providing advice and support on keeping children safe online to Government, NGOs, the police, children's agencies, local authorities, schools and parents. Charlotte has worked on several high-profile programmes and initiatives to help organisations deploy effective technical solutions and robust policies and processes to improve safeguarding.
Charlotte has recently delivered a number of RM webinars on online safety: