In this latest release, we have some exciting new feature updates to introduce following on from our most recent release to allow Microsoft Teams sync from RM Unify.
Custom Launch Pads for MIS year groups
Custom Launch Pads give you the ability to tailor more relevant content for your students based on their year group that they belong to, rather than all students seeing the exact same tiles on the Launch Pad. You would be right in saying that custom Launch Pads is not a new feature to RM Unify as up until now it has been possible to configure custom Launch Pads for students based on 'internal year groups' which once setup will override any MIS year groups that have been synced to RM Unify. With this new release, you will be able to use the MIS synced year groups to direct the custom Launch Pads so that you can assign each year group accordingly – you might even consider having a key stage Launch Pad where you assign year groups 1 & 2 together. This also means that you will not lose visibility of your year groups from the RM Unify Management Console and you will continue to be able to sync these into target apps. Here is how it will look: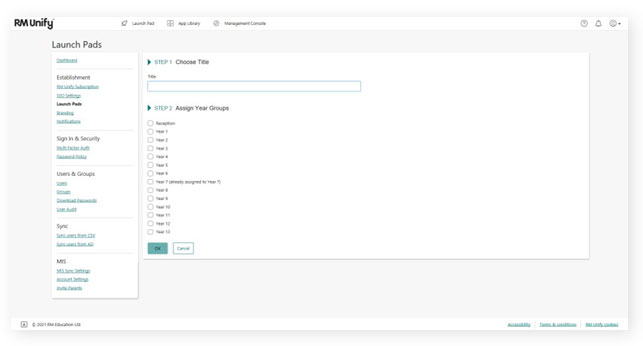 For those of you who already use the internal year groups to manage your custom Launch Pads you will be able to continue using these should you wish to, or alternatively you can unselect the internal year groups and click 'OK' which will revert to MIS year groups but do bear in mind you will need MIS sync configured. To see the video tutorial for setting this up, please install the RM Training Academy from the app library and you will be able to access it via this link once clicking 'sign in with RM Unify'.
Microsoft licensing changes
Many schools will use RM Unify to automatically provision their users to Microsoft 365 which will also automatically assign the users with the most available licence for their role, which works well for many setups where they only have the standard Microsoft licences available in their tenancy. We recognise that some schools will want to make use of more advanced licensing options through Microsoft such as assigning group-based licensing which is available through Azure AD Premium P1 and so we are giving the option to opt out of any automatic RM Unify licensing in Microsoft 365. The groups that an admin may wish to use could be the role groups that will be provisioned and maintained by RM Unify. For more information, please refer to this TEC article.