We are planning to bring RM Unify in line with the latest updates from Google who are changing the name of G Suite for Education with Google Workplace for Education. This will mean that we are going to refresh our Google app tiles with the new icons and descriptions as part of the rebranding. For reference, please see the below diagram: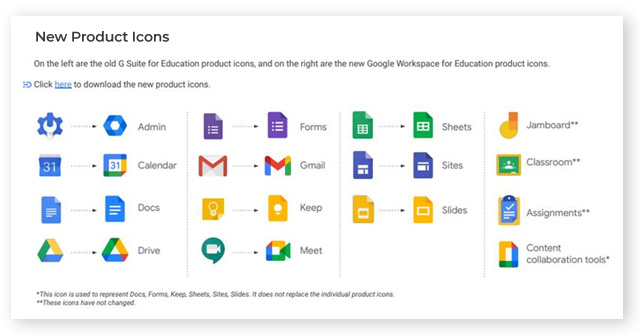 This will not result in any change to the way you access Google Workspace for Education via RM Unify today. We will also be updating the rest of the platform UI to reflect the change in name over the next coming months, but we expect to update the Apps next week. For more information, please refer to the Google Workspace for Education website.
New Apps
As part of this update, we will be introducing 2 new Google Apps to the RM Unify App Library including Google Meet and Google Sites. As many will know, Google Meet will have been particularly useful given the recent move to remote teaching and learning and will continue to play a part for many. Whilst we retain the Google Sites (classic) tile in RM Unify, the most recent announcements suggest that Google Sites Classic will be retired later this year. With that in mind, we are introducing the new Google Sites tile which will eventually replace the classic version.