We have now released V4.26 to live, which contains a new feature that allows admins to add trusted IP ranges for MFA, improvements to the linking users process and for Launch Pad/App Library.
Trusted IP addresses for MFA
Currently it is possible to enable MFA for specific user roles for specific SSO apps in RM Unify. This update will allow you to exclude your School's IP range if you would only like users to be prompted for MFA when they are outside of this range. See the preview below: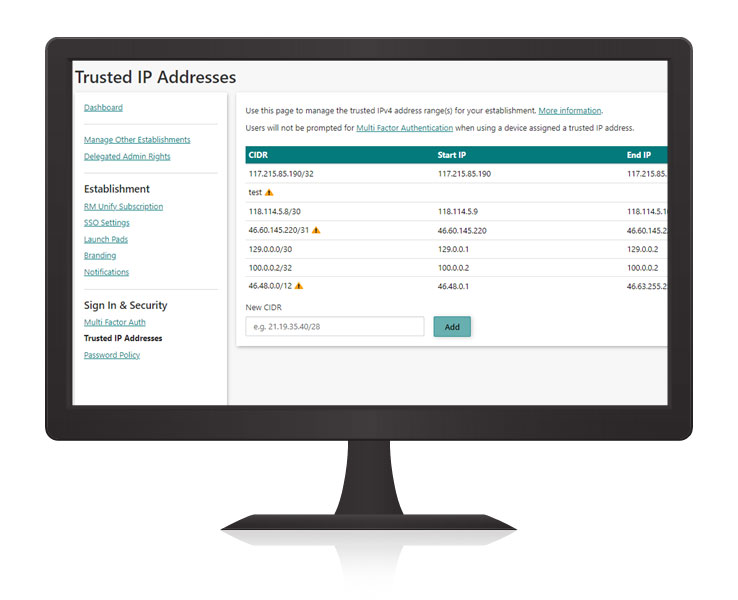 This can be particularly helpful for schools who operate a no mobile phones policy as this will remove the requirement to complete the MFA prompt on a user's personal device whilst at school. Since the majority of malicious attacks on user accounts are more likely to occur from outside of the school location, this feature will allow schools to make a compromise between security and user experience.
You can find out more from this TEC article
MIS Link Users
We are making some changes to the Link Users process which allows you to link MIS records with RM Unify accounts. One example of this might be if you are using AD sync with MIS sync in Link Mode. We will be increasing the probability that your users are correctly linked to the right record, as it can cause complications when these records are incorrectly linked.
Launch Pad and App Library
We are also adding a light change to the Link Tile management for admin users. Going forward, when a Link Tile is created for specific user roles e.g. Teaching Staff and Non-Teaching Staff that will mean that any other user roles such as Students will not be able to add these to their Personal Launch Pad. We would always advise that any URLs are managed by the access and permission settings within the destination application to avoid users gaining access to areas that they should not be able to.