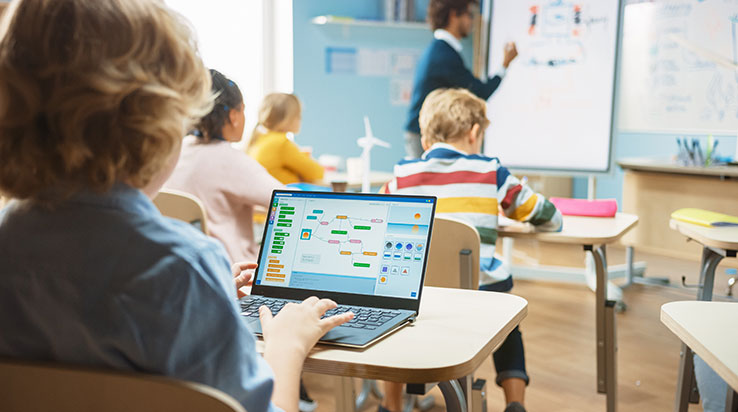 RM only works with the education sector. We know the importance of a stable, reliable, high-performing internet service for teaching and learning within schools. With the increasing shift to more cloud-based technologies, it is essential that your internet connection "just works".
This article provides some technical detail about how RM's broadband service meets the needs of IT managers in multi-academy trusts and standalone schools.
A fast and reliable connection for trusts
Our wide area network (WAN), designed for trusts, maximises the availability of your internet connections by ensuring that every layer of your service has resilience against the failure of a single component, data centre or circuit.
Our dedicated and uncontended connectivity uses high-capacity, symmetric leased line connections between each of your schools and the RM core network to minimise potential bottlenecks. The result is a highly scalable WAN for the trust. We also offer similarly uncontended broadband and fibre to the premises (FTTP) services.
We can also install high-speed secondary connections to give a school or trust over 99.99% uptime.
The benefits of Multiprotocol Label Switching
We use Multiprotocol Label Switching (MPLS) layer 3 VPNs to create a logical private network on our high-capacity MPLS-enabled core network, to provide your trust with all the advantages of a dedicated private WAN but with increased flexibility at a reduced cost. You can then choose from several flexible WAN topology options to customise traffic flows between your sites and the cloud services.
We recommend an MPLS-based WAN topology to route all traffic via our centrally hosted firewall. This will allow you to manage internet and inter-site access centrally, creating shared policies that apply across the trust and reducing the administrative burden in individual schools. This will also support your Managed Service Provider if they wish to centralise services.
The correct topology also delivers maximum security for your trust. It enables fine-grained control to permit specific trusted inter-site traffic such as file server/print access or site-to-site backups whilst preventing the propagation of viruses or malware between schools. It is ideal for trusts looking to increase the use of cloud-based services and who do not wish to maintain local firewall rulesets.

The connection that won't let you down
The core infrastructure underpinning your logical MPLS network provides at least 2N (2 times the need) resilience in all components. As a result, no customer will be affected by hardware, power, or link failure anywhere in our network. Taken to the extreme, this ensures that there should be no interruption to your service even if an entire data centre were to go offline.
Our core network has achieved 100% availability over the last two and half years, exceeding our target of 99.99% uptime and ensuring uninterrupted teaching and learning for over 1 million pupils.
To find out more about our reliable and fast broadband services contact us.