An updated version of the Department for Education's Keeping Children Safe in Education (KCSIE) statutory guidance came into effect at the start of September 2022. This blog post provides the main changes you need to know about, starting with the online elements.
Some changes require action from the senior leadership team in a school. Other changes put the onus on governors or trustees. The guidance applies to maintained, non-maintained or independent schools (including academies and free schools), maintained nursery schools and pupil referral units.
Changes related to online safety
Schools must still protect their pupils from potentially harmful and inappropriate online material. One element of fulfilling this responsibility is suitable arrangements across the network.
The responsibilities regarding protecting pupils from online harm using filtering systems have expanded. The requirement for these systems is not new. Still, governing bodies are reminded that they should not be so strict as to place unreasonable restrictions on what teachers can teach about safeguarding nor prevent online teaching in general. It is now down to the governing body to regularly review the effectiveness of filtering and alerting arrangements, which includes relevant staff understanding the provisions in place, being able to manage them effectively and knowing how to escalate concerns that they have.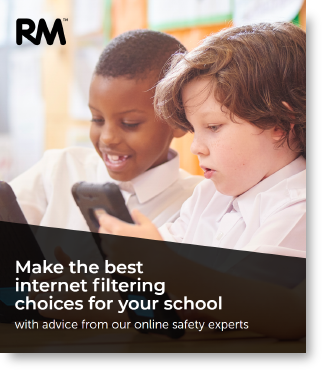 Our guide to online filtering gives more details.
Schools have new responsibilities regarding communication with parents about remote education. Given that schools will likely communicate regularly with parents on this topic, the messages should be used to reinforce the online safety message and set out parameters about which online sites or services children will use and with whom they will be interacting from their school.
The online harms that schools must protect children from have not changed. However, it is worth re-stating the four specific categories:
Content: this is where a child engages with or is exposed to potentially harmful content. The content itself could be aggressive, sexual or counter to relevant values. Examples are disinformation, pornography, racism, misogyny and self-harm.
Contact: this involves being subject to or the target of potentially harmful interaction with others. It can take the form of peer-to-peer pressure, age-inappropriate advertising or marketing and adults posing as children or young people to groom or exploit the victim.
Conduct: online activity that causes, or increases the likelihood of, harm. This could involve creating or sharing explicit images and online bullying or harassment.
Commerce: where a child is a party to or exploited by potentially harmful commercial activity such as identity theft, scams, fraud, phishing, etc.
An appropriately integrated approach to the use of technology by pupils and staff will meet these requirements and protect the school from online threats to its infrastructure.

Other changes for staff and governors/trustees
The updated KCSIE document also contains changes to the requirements for safeguarding in a more general sense, rather than the specifically online domain. These include the following.
All staff need to read section one of the document, which includes new information and guidance.
It sets out the child-centred and coordinated approach to safeguarding. It is a collaborative effort by everyone who comes into contact with a child. It makes clear the importance of school and college staff and the expectations placed on them. The approach can be summed up as there being four elements to safeguarding: Protecting > Preventing > Making sure > Taking action.
Senior leaders should tell staff about safeguarding systems within any given establishment.
Staff should recognise that some children might not feel comfortable coming forward to tell an adult about their experiences.
It encourages the exercising of professional curiosity as a way of overcoming reluctance or inability on the part of the child to tell someone that they are suffering, and of spotting vital early signs.
Domestic abuse is added to the list of safeguarding issues since those who witness it are also considered victims due to its lasting impact
Part one reframes peer-on-peer abuse as child-on-child abuse to acknowledge that while children can perpetrate abuse on other children, they are not always peers.
Concerns or allegations about staff members which do not meet the harm threshold should be shared by following the establishment's low-level concerns policy.
All governors and trustees must now undertake appropriate safeguarding and child protection training (including online) upon induction. This should enable them to provide strategic challenge to assure themselves that the safeguarding policies and procedures in place in schools and colleges are effective and support the delivery of a robust whole school approach. Previously governors and trustees were not obliged to undertake this type of training, even if many did.
The opportunities to teach safeguarding section now includes an expanded list of additional resources relating to the teaching of safeguarding. These include Public Health England information on mental wellbeing and DfE advice on responding to incidents involving harmful online challenges and online hoaxes.
Children at greater risk of harm
The document still lists various groups of children potentially at greater risk of harm than others, with some additions and updates.
Young people who identify as LGBTQ+ are a newly added category. The fact that a young person identifies as LGBTQ+ is not in itself an inherent risk factor. However, they may be targeted by other children as a result, and they may lack a trusted adult with whom they can speak openly.
An additional barrier to recognising abuse has been added when considering the needs of those children with special educational needs and disabilities or health issues. It is that their level of cognitive understanding may not allow them to understand the difference between fact and fiction in online content and the consequences of then repeating the content/behaviours in school.
The guidance on responding to reports of sexual violence and sexual harassment has been updated with resources to support schools when dealing with these situations. This part of the document has a new section on considerations of confidentiality and anonymity. Case studies linked to the topic provide relatable examples. Where the response to any such report is to provide early help, schools should be fully involved in the discussions about the different types of assessment and services that are put in place.
Effective filtering of the online content your pupils can access and monitoring of their activity online are crucial elements of any education setting's safeguarding responsibilities. RM provides a range of packages suitable for all phases of school and college education. To find out more, get in touch.
This blog is intended to provide an overview of the changes to the KCSIE guidance. It contains only summaries of aspects of the subject matter. Interested parties should consult the original guidance document to satisfy themselves that they are complying with its requirements.