RM Unify Vanilla Network Provisioning
Just in time for the busy summer season, Vanilla Network provisioning arrives with this release. The principles are the same as those shared with the successful CC4 option which has been running since late last year. We are pleased to be able to share the benefits of this solution with our customers running single site Vanilla networks (Multi-site will be available at a future date).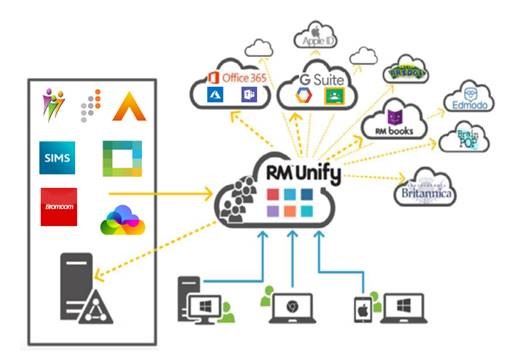 To make sure customers have the best possible deployment experience this service is not-self installable and is instead delivered through an installation part. The part description also has links to FAQs and other related TEC articles. This includes guidance on network pre-requisites.
Please note that this service is governed by the RM Unify Terms and Conditions, taking particular note of any limitations relating to Network Support. As always you will receive the very best RM Unify support for all parts of the product to ensure that you and your users get the very best from it. If you would like the very best enhanced support to cover pretty much everything else, please take a look at our industry leading single support contract.
Manage other establishments
This new functionality helps establishments to more tightly control data sharing to other establishments, and move the authorisation and control of this sharing to individual establishments. This will allow an establishment to grant admin rights to one or more establishments (e.g. LA, MAT, 3rd party) independent of establishment hierarchy. At this point, granting of rights will not be fine grained - it will simply allow administrators at the recipient establishment to have full admin rights over the establishment granting access.