RM Unify v3.30 our latest software update is released on November 1st 2017. The major new feature for RM Unify Premium customers is RM Unify Network Provisioning (RMUNP).
What's new?
From RM Unify to the network
Key Features

Fig.1

User creation
User attribute changes
Username change
User disable / enable
2-Way Password change & sync
Full audit log in RM Unify Management Console
The RM Unify Management Console provides administrators with a full audit of all changes made in RM Unify and on the network.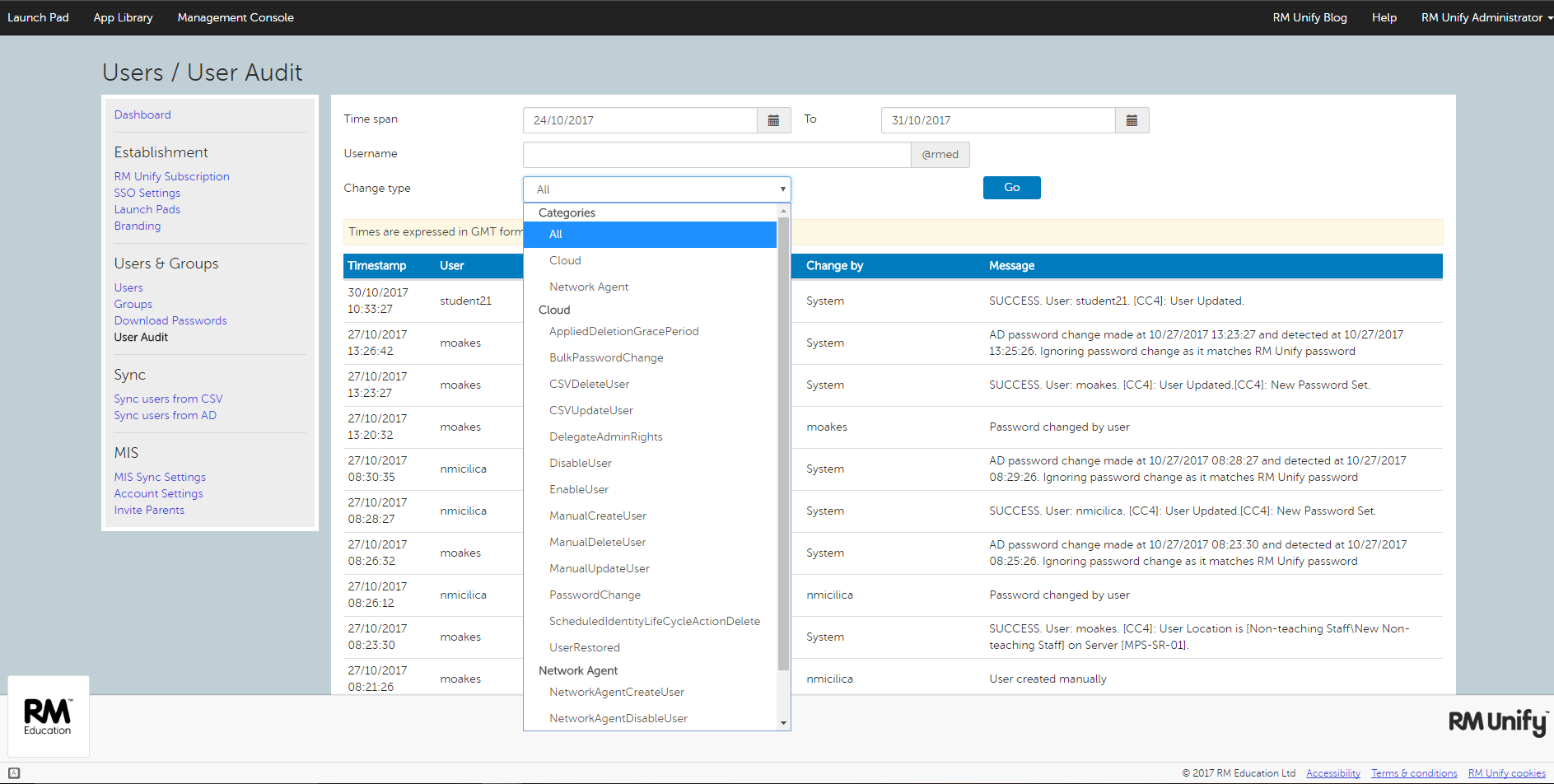 Fig.2
Why should you care?
Provisioning users to your network from RM Unify can save you huge amounts of time and will make an impact in the classroom. For example, for a while now RM Unify has equipped staff with the ability to reset student passwords. This has been fine for the cloudy world, but does little to help anyone trying to get onto the network. With 2-way password sync in RMUNP, a change in the cloud is reflected in the network. No more password re-sets for the network manager, no more lock-outs for staff and students.
How are you provisioning users into RM Unify at the moment?
There are already a number of options available (see Table 1). The addition of RMUNP to these solutions will give you even greater functionality.
| | Source | AD > Cloud | Cloud Groups | DSSO | RM SafetyNet User-Based Filtering |
| --- | --- | --- | --- | --- | --- |
| AD Sync | AD | Yes | No | Yes | Yes |
| AD Sync with MIS Sync (Link) | AD | Yes | Yes | Yes | Yes |
| MIS Sync (Create) | MIS | No | Yes | No | No |
| CSV | CSV | No | No | No | No |
| RM Unify interface | RMU UI | No | No | No | No |
Table 1
FAQ's
Is this available for all networks? Not right now. At the moment it is for CC4, single site networks only. We intend to enable it for multi-school and non-CC4 Microsoft Active Directory networks in the future.
What are the technical requirements? A number of TEC articles are available on the RM Support web site (https://support.rm.com/):
How much will it cost? This new functionality is included in the RM Unify Premium subscription at no additional cost.