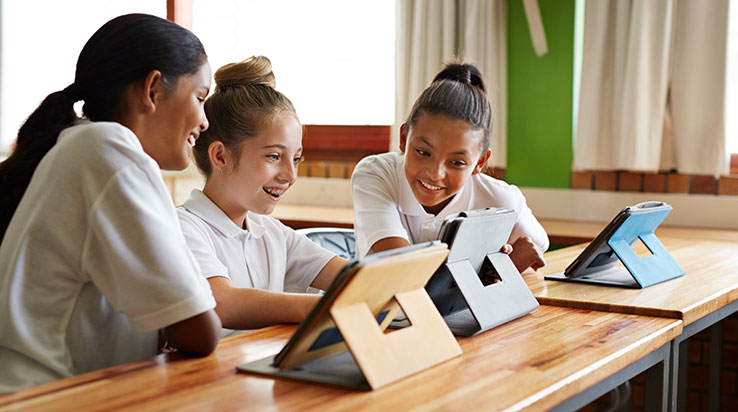 Leasing gives schools and academy trusts an alternative to paying upfront for equipment such as laptops, servers, network infrastructure or other technology in one hit from cash reserves. It is a binding agreement between the trust or school and a finance provider. It covers the cost of acquiring new equipment, and payments are made in instalments. Many schools and trusts already lease office equipment, such as photocopiers or printers, and can apply the same principle to IT equipment.
The 4 main advantages for schools are lowering costs, ease of updating, flexibility when budgeting and reliability.
Lowering upfront costs
One trust financial manager we spoke to described a conflict for academies and trusts when considering updating their technology infrastructure or any substantial financial outlay. Academies must maintain reserves to help them weather any financial storms that come their way. However, as an educational provider, there is a natural desire to spend the allocated budget on providing the best possible education for pupils. In most cases, the urgency to replace outdated IT equipment cannot wait until the school has built up sufficient funds from devolved formula capital (DFC) funding.
Trusts and individual academies cannot borrow to resolve this conflict, and fiscal prudence is generally front of mind for CEOs and trustees. Instead of raiding the reserves to fund investment in infrastructure, a lease lowers the initial cost and spreads the payments over time. State funded schools can only enter into financial lease agreements with the agreement of the secretary of state, but an operating lease is allowed.
The Finance and Leasing Association explains the difference between the two. An operating lease does not convey ultimate ownership to the school or trust. The leasing company will take back the equipment at the end of the agreement to realise the residual value. This has implications for the trust balance sheet since the equipment cannot be recorded among the trust's assets.
The same financial manager explained their trust's choice to use an operating lease to fund a refresh of one of their school's computing estate by saying that it allowed them to achieve their pedagogical objectives without having to spend their reserves, which did not contain enough money anyway.
Keeping up with the latest technology
Starting a lease agreement, with its fixed payments over an agreed period, can create a virtuous circle of regularly updating your technology to support teaching and learning. With your budget set aside to pay the lease, you can refresh your investment at the end of each lease for no extra net cost. Alternatively, the option exists to extend the lease for a short period while you review your options. The lease company can also grant indefinite use so that some of the budget allocated for the payments could be used to obtain higher specification equipment for distinct subjects such as technology or graphics.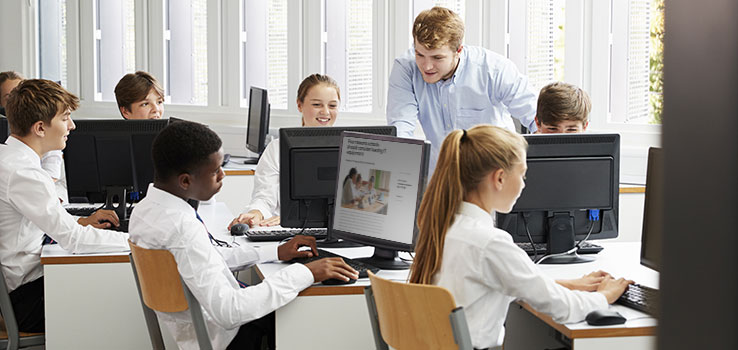 Clarity and flexibility for budgeting
A lease agreement sets out exactly how much is to be paid by the school or trust, and how often, providing clarity for budgeting over the lease term. RM's leasing partner, edde offers flexible payment terms to match the school's needs, whether monthly, termly, quarterly or annually. Edde can also budget match, provide low start payments or include deposits.
When The Forest CE Federation completely refreshed its technology, a combination of a lease for the hardware and a subscription for the services provided budgeting certainty. Our case study explains this in more detail.
Reliability
As outright-purchased equipment ages, it falls out of warranty and manufacturer support leaving schools and trusts vulnerable to unpredictable maintenance costs. Once infrastructure is no longer supported by the manufacturer, its vulnerability to cyber attacks increases. The DfE's technology standards recommend replacing equipment as it becomes unsupported. Regular lease payments ensure renewal and the support of warranties before this becomes a problem.
It is easy for schools and trusts to fall into a situation where the ongoing cost of maintaining older equipment exceeds lease payments on new equipment. That's without calculating the value of staff time spent supporting older infrastructure, which could be deployed on more productive tasks.
Leasing IT equipment offers schools many benefits
School budgets are under increasing pressure, and there are many potential demands on any reserves that exist. In this environment, leasing can offer a way to make vital technology upgrades thanks to the benefits of:
Lowering upfront costs
Ease of updating equipment
Flexibility and certainty when budgeting
Reliability
As with any financial commitment, schools should ensure that they deal with reputable and sustainable suppliers. As a minimum, the lease company should be a member of The Finance and Leasing Association and preferably experienced in the education sector.
The combination of RM's near 50 years serving schools and edde's focus on the education sector make them the ideal partners for any school or trust looking to improve its technology infrastructure.
Contact us today to find out more.