Delivering a secure, reliable
and professional IT service
with DGfL & RM
Worried about the pace of change and ensuring students benefit from the latest technology?
Struggling to manage your own IT?
Fed up with lack of delivery from your current provider?
With almost 50 years of experience in education, RM is uniquely placed to provide schools with technology solutions that continue to evolve with your needs.
In partnership with the Digital Grid for Learning (DGfL), we have provided IT support and services to over 100 educational establishments in the West Midlands since 1999, constantly developing and evolving the service.
How we help schools:

Local service with
global back-up
Our 20-strong team in your local area visit your school when you need it, with the wider RM business able to deliver remote, proactive IT support out of hours to avoid disruption to teaching and learning.

A true strategic
partnership
We provide a true partnership approach, guiding you through your options for a tailored, affordable and comprehensive technology solution that will continue to evolve with your school's needs.

Keeping you
safe online
We know that the safety of your pupils and staff is your utmost priority. RM keep your technology infrastructure secure, protecting your school community from online harms and cyber security threats.
See how our technology provision has evolved over the past 20 years
Don't just take our word for it:
Find out how Quarry Bank Primary School in Brierley Hill is committed to making the school, its staff, pupils, and their parents better appreciate the role of technology as they build for the future.

"The support provided by RM underpins our entire tech journey. Trust in technology is hard-fought but easily lost. If something does not work – especially the introduction of new technology – users lose confidence very quickly and then stop engaging. Having the support of RM gave us great confidence in the technology, with any issue quickly and efficiently overcome".
Find out how the COVID-19 pandemic led to Ridgewood High School in Wollaston, near Stourbridge accelerating their move to the cloud with support from DGfL and RM.

"For me, it was the comfort of knowing that RM were there for me – with advice, practical tips, as well as simply being a resource I could call upon. They looked at a load of calls for me – which took a huge load off my shoulders at a really busy time – and even looked at systems that were outside of their remit, but were vital to the running of the school.".
The Service
The DGfL service comprises of a set of Core Network Infrastructure Services, with a world-class high speed broadband connection and a set of Optional Services that complement the Core provision. Educational establishments can choose from these Optional Services on an annual basis, and thereby tailor the DGfL service to meet their specific requirements over time.
Core Service
The foundation of this support is represented by the DGfL Core Service. The aim of the Core Service is to provide the educational establishment with a best value, best of breed set of essential services, representing all that is needed to operate a reliable and secure network.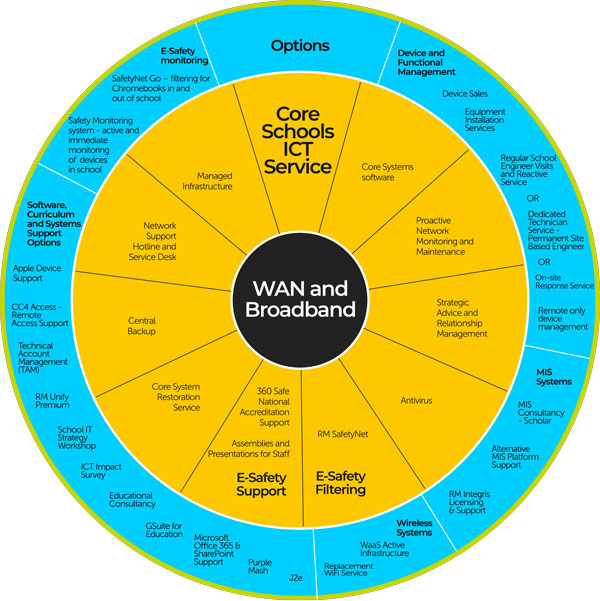 Optional Services
The optional services available are designed to provide the educational establishment with a flexible service, recognising that not 'one size fits all' and that your needs may change over time. These options give schools the choice to model the services that are needed, in response to specific priorities.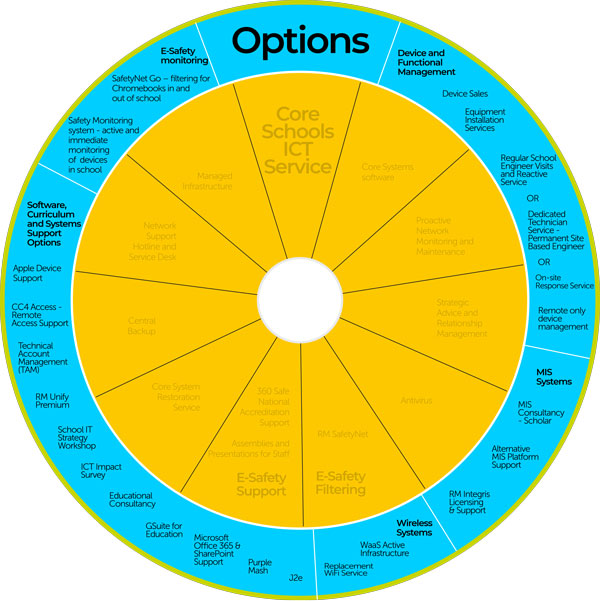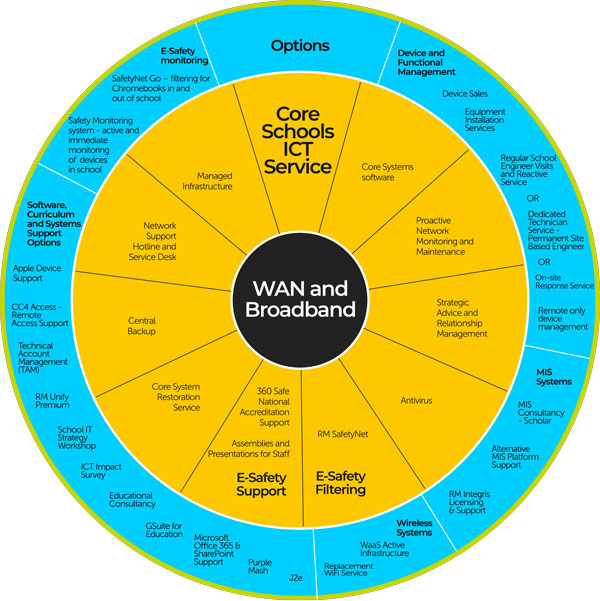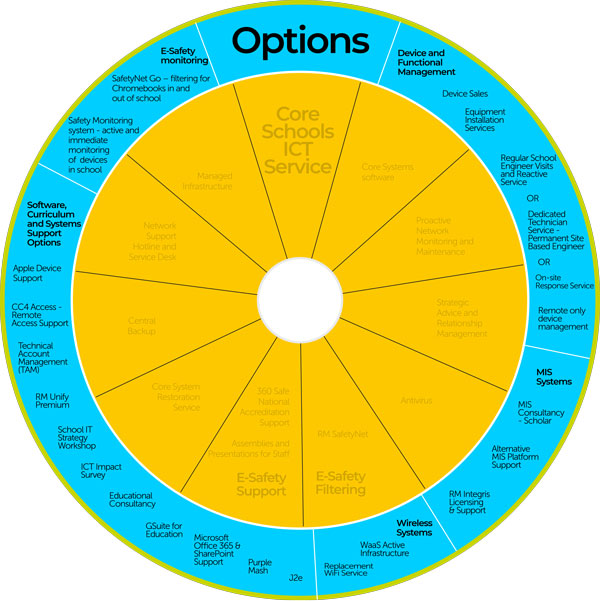 back to top button