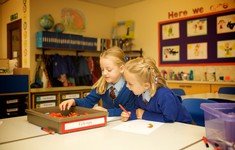 Following the publication of the School Food Plan in the summer of 2013, Deputy Prime Minister Nick Clegg announced free school lunches for all infant children in the hope that they would give every child "the chance in life that they deserve, building a stronger economy and fairer society.
Universal Infant Free School Meals (UIFSM) will apply to all pupils in reception, year 1, and year 2 in state-funded schools in England (maintained and academies) from September 2014. This means all schools with pupils in those year groups will be required to provide lunch which complies with the School Food Standards.
The Department for Education is currently consulting on these standards in order to simplify them, with any changes coming into force from January 2015. The new standards would come in the form of a one-page summary document provided as a reference point for schools and caterers. The full regulations come as a seven page document.
While schools are expected to offer FSMs to all infants, the take-up is not mandatory, meaning schools can continue to allow packed lunches if they wish.
There will be a telephone and online advice service as well as direct-support service for some schools provided by the Children's Food Trust (CFT) and the Lead Association for Catering in Education (LACA). The direct support will be available for schools with low levels of school meal take-up, in-house catering, 'production kitchens' and very small or very large schools.
Other guidance can be found via the Department for Education guidance, the UIFSM toolkit, and on the School Food Plan website.
Funding
Overall, £419m will be spent on UIFSM in 2014–15 and £590m in 2015–16.
In addition, £150m capital funding will be provided in 2014-15 for schools needing to improve their kitchen or dining facilities to support the roll out of UIFSM.
Revenue funding:
In 2014–15 schools will be paid £2.30 for each meal taken by newly eligible pupils. The existing eligibility for FSMs for pupils from deprived backgrounds will continue as now.
Initial allocations will be based on an estimate of national take-up and adjusted once the department knows the actual number of meals taken at each school. The initial allocations for 2014–15 will be announced in June 2014 with funding for maintained schools provided to the Local Authority by the end of June 2014, and funding for academies provided in early July.
Small schools transitional funding:
Additional one-off funding totalling £22.5m will be provided in 2014–15 to small schools with fewer than 150 pupils to help with transitional costs.
The funding will be provided as a lump sum in June 2014 and will be between £3,100 and £3,210 per small school depending on school roll.