Why not learn about Road Safety by using Excel and PowerPoint?
Context
This lesson idea provides activities to deliver around the topic of Road Safety. Klang is an App within Glow, although not directly playable in the browser, it can be downloaded for IOS and Android Devices. There are also other suggestions of more great online activities to complement the main session.
The theme for Road Safety Week this year was to Drive Less, Live More! See here for more information:
http://www.roadsafetyweek.org.uk/action-pack/14-content/569-rsw15theme
One of the suggestions for schools/colleges to get involved is to encourage students to carry out a travel survey of their local area. This can help build a good picture of how pupils are getting around and map out safe active travel routes within an area. You may also want to promote findings to parents. Lastly, you may also wish to extend this lesson further by comparing your local area to another area somewhere else in Scotland or in the wider world.
Please Note: This session is not dependent on mobile devices as the Klang app can be used as an extension activity.
Core
This is one of a series of lesson ideas that help teachers use some of the tools in Glow. The skills that pupils will develop in using collaborative and publishing tools are core skills that can facilitate many other learning opportunities. Teachers seeing this in practice have been inspired to use the same methodology across different topics and contexts.
In this lesson idea students will work together to research online content and analyse data from the sources. Any of the exercises can be used as a stand-alone activity or as an endpoint to a literacy based research project where learners are researching and supporting different themed days, awareness raising and/or health and wellbeing topics. Ideas to develop this lesson plan are presented at the end.
Aims
To research travel in the local area and use online collaboration tools (Excel and PowerPoint) to design and present findings/ideas.
To develop critical skills in interpreting content.
Learning Outcomes
All children will research travel and use collaborative Office 365 tools in Glow (Excel and PowerPoint).
Most children will develop ideas and opinions around travel in their local area.
Some children will explore how travel could be improved in their local area.
Learning Intentions
To celebrate and expand current understanding of road safety and active travel.
To create charts and tables based on contextual traffic frequency data.
To extend road safety knowledge and good safety behaviours.
Cross curricular / Interdisciplinary learning Links
Health and Wellbeing: physical wellbeing
Maths: interpreting numerical information
Vocabulary – STOP, LOOK, LISTEN and THINK (as a sequence)
Teaching Steps
Step 1 – Preparation – Creating a Collaborative Excel Workbook
Log into Glow then click on the blue 'One Drive' tile.
Click on the '+New' button and select 'Excel workbook'.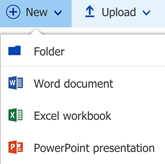 Click on 'Book' in the black header at the top of the workbook to rename with a suitable test name; for example, Excel Test for Class.
This workbook is now owned by you and you can share with Everyone by clicking the SHARE Button.

Copy the URL in the address bar. Highlight and Right Click – Copy. Go to http://www.glo.li/ and enter the URL so you have a unique shortened URL for the workbook. You can now share this simple URL with your learners.

Step 2 – Create an Excel Workbook and a PowerPoint
As in Step 1, create another Shared Excel Workbook and name it 'Traffic Counts Survey' and include the following headings across a number of sheets:
Camera
Location
Vehicle Type
Frequency
Click on the '+' sign at the bottom of the sheets to insert additional sheets.
Preparation – Create a collaborative PowerPoint following Step 1 but clicking on 'PowerPoint'. Again give it a title, such as 'Travel Survey'.
Share and shorten the URL using http://www.glo.li/. Create a first slide which introduces learners to the travel survey.

Include lots of black slides.
Step 3 – Introduce the topic of Road Safety
Ask learners to think about how busy or quiet the roads are in their local area and how this impacts on road safety.
Step 4 – Look at the traffic online!
Ask pupils to look at this online map of traffic cameras and to find the nearest camera to their school: https://trafficscotland.org/livetrafficcameras/
You may also wish to compare this area to other areas in the UK/world.
Step 5 – Play around with Excel
Ask learners to practice typing in the Excel sheet.
Hint: Remind them that they don't have to click save as it is automatically saved.
Once they are confident at entering data into Excel ask them to open the collaborative 'Traffic Counts Survey' Sheet prepared in Step 2.
Step 6 – Record the data!
In small groups of 2 or 3 assign a traffic camera to each group and have them record their findings in the Excel spreadsheet for around 20 minutes. Once they have collected enough data they should move onto presenting this in a PowerPoint presentation.
Step 7 – Present the findings
Each group should work on a slide to present their survey data. Encourage learners to make them bright and colourful and as imaginative and factual as possible. Pupils could insert images of the vehicles they saw online and should refer to the Charts function in Excel to create a chart.
You may wish learners to consider some of the following:
Did the survey take place at a busy time or quiet time of day?
What do they think influences traffic volume?
Do they think the roads are busier or quieter at certain times of the year?
Was the traffic mostly business or domestic travel (what do we mean by these terms?)
What alternative ways could those journeys have taken place?
Step 8 – Crossing Roads Safely.
Select and watch an appropriate video from the list provided by Brake.org
http://www.brake.org.uk/schools-communities/young-people-and-road-safety/31-get-involved/1334-road-safety-videos-and-adverts-from-around-the-world
Through structured discussion ask some of the following questions:
What kinds of distractions to road safety are there for pedestrians?
What kinds of distractions to road safety are there for drivers?
What can we put in place to help safety on the road?
What personally can we do to change our behaviours?
Using another slide in the Collaborative PowerPoint ask them to list some helpful advice for younger pupils based on the steps for crossing the road. STOP, LOOK, LISTEN and THINK.
Step 9 – Presentations
Ask each group to present their slide. Ensure appreciative responses and feedback to those presenting.
Extension activities
Order your Action Pack from http://www.roadsafetyweek.org.uk/action-pack
Watch the Klang App Trailer: https://www.youtube.com/watch?v=18gQB8RgBEY&feature=youtu.be
Online Resource http://www.crashmagnets.com/ has a number of activities for follow up.
Develop a pupil-led pre and post Road Safety week survey using online tools to gather views and assess effectiveness.
What do the class think about driverless cars? Could they have an impact on people taking healthier journeys to school or work in the future? See https://www.youtube.com/watch?v=uCezICQNgJU
Develop a #hashtag and discuss with Scottish Schools what other activities are taking place. Collate the results.
Links to the Curriculum for Excellence
The above lesson idea can contribute to gathering evidence for the following Experiences and Outcomes.
Curriculum Area and Outcomes
Description
Numeracy: MNU 2-20a; MNU 2-20b
MNU 2-20a – Having discussed the variety of ways and range of media used to present data, I can interpret and draw conclusions from the information displayed, recognising that the presentation may be misleading.

MNU 2-20b – I have carried out investigations and surveys, devising and using a variety of methods to gather information and have worked with others to collate, organise and communicate the results in an appropriate way.

Health and Wellbeing: HWB 2-16a; HWB 2-18a
HWB 2-16a – I am learning to assess and manage risk, to protect myself and others, and to reduce the potential for harm when possible.

HWB 2-18a – I know and can demonstrate how to travel safely.

Mathematics: MTH 2-21a
MTH 2-21a – I can display data in a clear way using a suitable scale, by choosing appropriately from an extended range of tables, charts, diagrams and graphs, making effective use of technology.