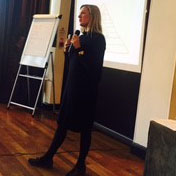 Last night I did a parents' evening at a school – a large secondary school with about 1000 students on roll. There was a great turnout and the school is really committed to ensuring that their students and parents know as much about technology as possible.
What was apparent during the session is that there are many different parents in a variety of contexts, all very committed to their children and to ensuring that they are safe and also have a little bit of fun at the same time! They recognised that technology has a huge role to play in their children's lives but they are left a bit bewildered by the amount of apps, social networks and games that are constantly appearing on the scene.
As a parent or anyone else for that matter, there is absolutely no way that you can keep up with everything that your child wants to play with or take part in, so we agreed, as a group, that we would accept that and not feel guilty about it – we are not tech experts; however what we can do and have been doing from the day our child was born, is to help to protect them and enable them to navigate life in the best way possible.
I think many of the parents at the session last night thought they weren't doing much but they actually were! They were doing incredibly sensible things like talking to friends about games, looking at age ratings and checking things out before they allowed their kids to access them. They were also asking their children really difficult questions about why they felt that they needed a certain app or game and often when their children analysed why, they discovered that they didn't really want it at all.
They realised (I hope!) through the course of the session that the most important thing that they were already doing was laying boundaries for their child's online use and they recognised that the most effective way to do that was to show engagement and to challenge and support their child, not necessarily in a technical sense but in a parenting sense. High support, high challenge = high performance, or in this context it equals children being able to navigate the online world in a way that is productive for them without over protection and by giving them the ability to feel they are getting the most out of their online experience.
In order for parents to offer 'high support' to their children in this context, they need to be better informed. Schools have a huge role to play in informing parents and helping them to better understand the online world. Parents look to schools for help and support on many key and emerging issues across a whole range of subjects and schools facilitate sessions like the one last night so that parents can better support their children. It's crucial that schools continue to extend this type of support to parents as they are pivotal to the community and, more importantly, they have credibility and respect in an area where parents often don't know where to turn.
With Safer Internet Day on Tuesday there will be many schools offering support to their whole school community through sessions and activities for parents and children. The hope is that together we can create a better internet through advice, support and information, empowering children to make the most of the digital world.
About Charlotte
Charlotte has worked in the online safety field for over 15 years, 10 years of which she spent in Government, then in 2013 Charlotte started her own company, E-safety Training and Consultancy. She has worked on several high profile programmes and initiatives including the NSPCC's Share Aware campaign, Walt Disney's 'It Starts With You' online safety campaign, The Parent Zone's Parenting in the Digital Age programme and Keeping Children Safes' Online Safety Guide. Charlotte presents about online safety in schools to parents, children and teachers, she has spoken at several key national and international events including the UN and supported local authorities, the police, children's organisations and international NGO's in educating parents, children and young people on all things esafety. She is a member of the CEOP Education advisory board and an NSPCC associate.