The RM Training Academy is a new, personalised online training resource allowing users to access on demand content.
Currently the content is exclusively for RM Integris but will be expanded. We are looking for schools to trial this fantastic new resource as part of our Pathfinder programme.
Access and administration of the RM Training Academy is through RM Unify. Don't worry if you do not have RM Unify, we will help you get set up with a free RM Unify for RM Integris License.
We will support you through the super easy set up process.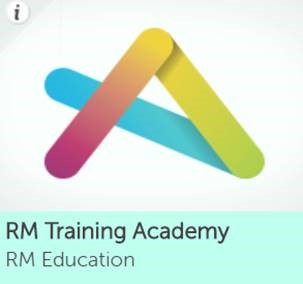 Learners can move at their own pace through a simple to navigate interface. Courses have been designed to meet the needs to key school roles including Senior Leaders, Teachers and Administrators.

Simple 'Show and Tell' videos are at the heart of the Training Academy.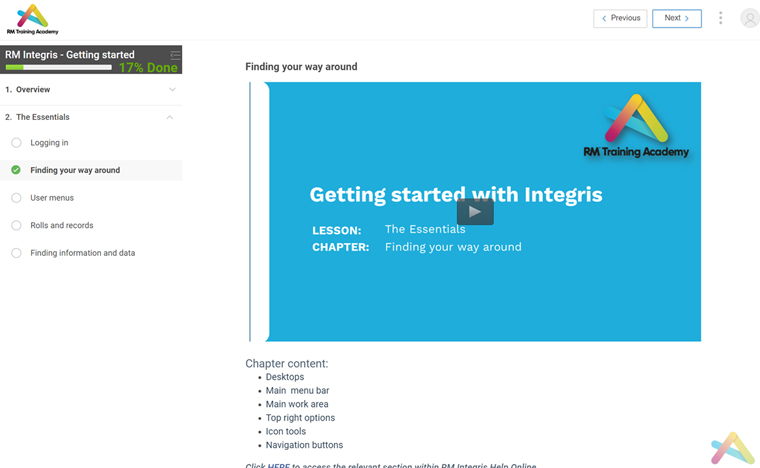 To take part you need to be part of our Pathfinder programme. Full details are HERE including the link to the simple Sign-Up form.
General FAQ
(Last revision: 30th July 2019)
Q: Why are we launching RM Training Academy?
A: We want users to get the most value possible from their RM products. To do this they need to have the knowledge, understanding and confidence to use each product to its full potential. The RM Training Academy helps users to do this by taking them through carefully structured and personalised learning tasks based around short, simple video content.
Q: What are the benefits of this program?
A: Pathfinders on this programme will be able to use a full version of the Training Academy for themselves and their users.
Q: What are the requirements to participate in this pilot?
A: Currently the content of the RM Training Academy is restricted to RM Integris. As such we are restricting this Pathfinder project to RM Integris customers.
Q: How do I apply to take part in this pilot?
A: Sign up here: https://www.rm.com/blog/2019/july/rm-digital-platforms-pathfinder-programme
Q: How will I know If I have been accepted onto the pilot?
A: We will email you
Q: How much time will I need to give over to this pilot?
A: RM Training Academy is provisioned and managed through RM Unify. As part of this pilot you will be provisioned with an RM Unify establishment. You will need to spend some time understanding how RM Unify interacts with RM Integris and the RM Training Academy. When you are ready to go you will need to join things up and then help your users to access to the new tools. You will be supported through this process. Once things are hooked up there is not much more to do other than to use the Training Academy and let us have your feedback. Hooking things together and switching it all on will take no more than 15 minutes. We estimate it should take less than an hour to work through the knowledge and understanding bit. How long you want to spend on training others and rolling it out to your team will vary.
Q: What measures are being taken to ensure data privacy?
A: All pilots adhere to the RM Plc Privacy Policy linked to the bottom of this page - https://www.rm.com/
Q: How will I submit feedback?
A: We gather feedback in several different ways including forms, telephone, online calls and customer visits. We will want to understand how you found the on-boarding process as well as the general use of the RM Training Academy.
Q: How long does the pilot last for?
A: We hope to have enough pilot information by the end of September 2019.
Q: What happens if I change my mind and want to leave the pilot early?
A: No problem. Just let us know that it is not for you and why. You can then stop using the RM Training Academy by turning it off in RM Unify. At the same time you may choose to continue, or not to continue, using RM Unify
Q: What happens at the end of the pilot?
A: At the end of the pilot the service will be made generally available to all RM Integris customers. For anyone on the pilot they will continue to use the service.
Q: Are there any costs?
A: No. The RM Training Academy is free to all RM Integris Customers. The same is true for RM Unify.