At the Glynne Primary School in Dudley the children in the Early Years Foundation Stage (EYFS) are using the school's new Flip cams to record their learning.
ICT Curriculum: Control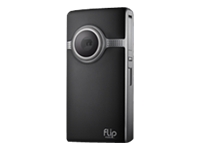 To support their work in the Control strand of the ICT curriculum the children have been introduced to Bee-Bots for the first time. They have learned how to move them around on the Bee-Bot Mats enhancing their work on Transport.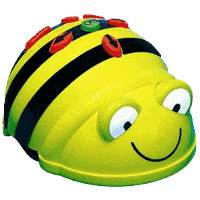 Working in pairs they quickly learned to point the Flip cam at the Bee-Bot, press the Record button and follow the Bee-Bot's journey as their partner was busy programming it to move around the Bee-Bot Mat.
Having been shown the Bee-Bot basics of moving forward, back and turning right and left, they quickly learned how to programme sequences of instructions to visit predetermined places on the Bee-Bot Mats. They soon worked out why the blue Clear button was so important.
In this introductory session, each pair had around 30 minutes to learn how to operate both devices swapping over half way through.
They visited the Park, the Supermarket and the Post Office travelling up and down the Bee-Bot Community Mat. They raced around the Race Track in the Bee-Bot Grand Prix.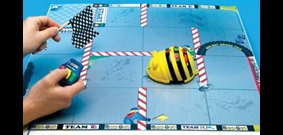 They explored the Island looking for treasure by the waterfall, near the volcano and close to the alligator swamp.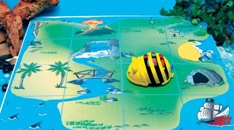 A fantastic session!
Children in EYFS working together to record all the moves, recording all their learning and supporting each other to work, learn and play.
The children really enjoyed the session developing their skills and they especially liked watching the videos back. The session has also helped to provide evidence for the children's profiles and their learning journey" - Jenny Horton, Reception teacher.
Thanks to Juliet Joy, Senior Educational Consultant at RM Education for this post.