School improvement starts here!
At the National College New Heads Conference this morning, Matt Walker (RM Education) and Robin Sutton (an independent educational consultant) are sharing their insights into how business intelligence in schools can be the foundation for school improvement.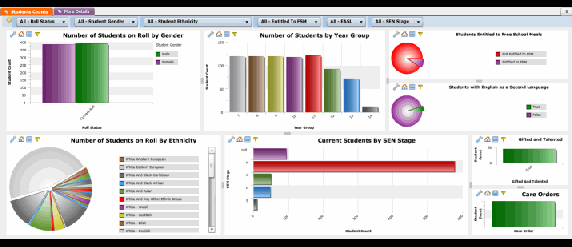 To coincide with the seminar, I've asked Matt to write this guest post, answering the question "does Business Intelligence have a place in our schools?". Over to Matt...
"For many years now the corporate world has been using Business Intelligence (BI) tools to monitor performance, plan interventions and measure the success of those interventions.
But for a variety reasons the use of such tools in schools has been overlooked. Schools instead have had to gather data from various sources and then spend precious time and valuable resource in presenting that data in a meaningful way. Add to this the large number of stakeholders who demand (quite reasonably) timely and accurate data, then the value of utilising BI systems in schools starts to become very attractive indeed.
Imagine a school where live assessment data can delivered straight to the PC, laptop or mobile device of the SMT, in turn that data can be further interrogated to view the split by gender, FSM status or month of birth.
What would be the impact of an attendance officer receiving alerts when a child's attendance drops below the school's targets? Or if those responsible for monitoring behaviour could easily view trends, both positive and negative, over time?
The opportunities for using BI in schools are far reaching and all at a cost that would surprise (pleasantly) those managing the budgets. Not only that, they too could use BI to track spend, monitor income and ensure that there are no surprises looming.
If nothing else it would be worth any school spending a little time looking at what is available and seeing first hand the many educational benefits that BI could offer."
- Matt Walker, Education Management Solutions
At Matt and Robin's seminar this morning, delegates experienced RM Intelligence, a new business intelligence dashboard that puts the most important pupil information at your fingertips. It summarises school data with interactive charts, making it easy to interpret complex data at a glance, across all key areas of your school. Find out more.