Last Friday saw the official opening of the RM REAL Centre at Tynecastle High School in Edinburgh. Set in existing classrooms, this experience has been billed 'Sci-fi' and 'futuristic'.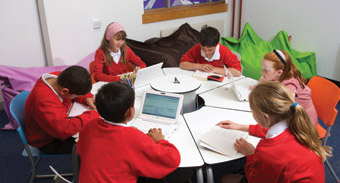 The school, a forward-thinking Edinburgh high school, were pleased to welcome the REAL Centre into their building, using it as a training opportunity for staff and students alike. On the opening day, we saw a number of students in the morning and hosted 'drop-in' sessions in the afternoon for any teachers wishing to see what flexible classroom technology could look like.
The REAL Centre will be live in Tynecastle School for the next two weeks before moving across to the ADES conference on the 24th November. During our stay the doors will be open to teaching staff across Scotland for scheduled sessions.
The REAL Centre is an excellent opportunity to explore what engaging, motivating and inspiring learning means within a context of the Curriculum for Excellence. But don't just take our word for it, see what other people are saying... read the article in The Scotsman.