On 13th July 2012 Prime Minister David Cameron said: "Free Schools symbolise everything that is good about the revolution that we are bringing to Britain's schools. Choice for parents, power in the hands of teachers, discipline and rigour and high quality education in areas that are crying out for more good local schools."
Free Schools are one of the flagship programmes of Education Secretary, Michael Gove, and have received considerable media coverage in recent years. For many, they are already a reality, with 3,905 children (as of January 2012) already being educated in Free Schools.
But what are Free Schools and how are they changing the landscape of education? This blog is by no means complete, as entire books could be (and have been) written on the topic but rather it is meant as a quick overview of what the current picture looks like and what the future picture might look like.
What are Free Schools?
Free schools are independent, state-funded schools that can cater for any age range. They can be set up by a wide range of people including businesses, universities, teachers or parents and will be subject to the same Ofsted inspections as state schools. They are classed as a type of academy and like academies, they receive funding on a comparable basis to other state-funded schools.
Free Schools are supported by the New Schools Network, an independent charity set up in 2009. Any group of people who wish to set up a new school and have a coherent plan as well as support from parents, will be offered help with their application; including advisors, feedback and help finding volunteers.
Internationally they could be compared to charter schools in the US, which receive public money but are not subject to the same rules and regulation as other schools. In both countries, the school may choose to change the length of the school day, or change the curriculum, and has to be tuition-free.
Current Free Schools:
The first Free School opened in September 2011, just 15 months after the Education Secretary, Michael Gove, invited the proposals from groups interested in setting up a new school. There are now 24 Free Schools open in England; 17 of which are primary schools, five are secondary schools and two are all-through schools.
A further breakdown shows that one is an all-boys school while the others are mixed; three have a sixth form, one has boarders, and six are religious (two Christian, two Jewish, one Hindu and one Sikh); 21 are in urban locations, two in villages, and one in a town.
Future Free Schools:
A further 68 Free Schools were approved earlier this year (50 of which will open in September 2012), and another 102 Free Schools were approved in July 2012 to open in 2013 and beyond. However, in July 2012, one of these schools (Newham Free Academy) was withdrawn from the programme as they were unable to secure a site in time for opening, which also affected the number of applications they received. This brings the total number of Free Schools yet to open to 169.
Most of these (142) are mainstream schools; of which 61 are primary and 56 are secondary schools. Another 19 Alternative Provision and eight special schools are also expected to open.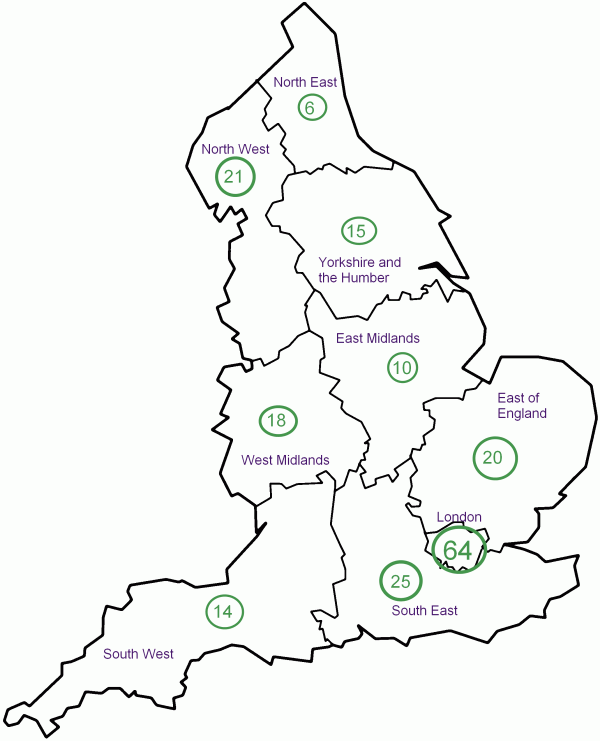 In total 45 (or 26%) of the schools characterise themselves as faith schools, 12 (or 18%) of which were announced in the second wave opening in 2012 and beyond; and 33 (or 32%) in the third wave opening 2013 and beyond.
Criticism
According to the government, Free Schools drive up standards by introducing more local competition and choice for parents.
However, those opposed to Free Schools have criticised Free Schools for a variety of reasons, including the fact that their teachers, like other academies, do not have to have qualified teacher status. Christine Blower, general secretary of the National Union of Teachers, said:
"Free schools, like academies, will offer less transparency and undermine community cohesion. They are not required to employ qualified teachers and are not accountable to democratically elected local authorities despite being funded by the tax payer. This ideologically-driven experiment is hard to justify at a time of school budget cuts".
However, David Cameron in a speech on Free Schools hit back at critics:
Of course, as with any bold policy, free schools are not without their critics. But let's just look at the arguments used against them. Critics say they aren't democratically accountable. Yes, they are. They're accountable to each and every parent who decides to send their child there.
"Critics say we don't need new schools, we just need to make existing schools better. But this misses the point entirely. Free schools don't just give parents who are frustrated with their local schools a new chance of a better education. They also encourage existing schools in the area to compete and raise their game".
Another criticism surfaced in a recent report by the RSA, which warns that "there does not appear to be any rhyme or reason as to where Free Schools are being encouraged or permitted", with several schools being set up where there is no shortage of schools, rather than in those Local Authorities that face a shortage of school places.
The author, Robert Hill, a former government advisor on education, said that "the impact of free schools would be enhanced if they were developed strategically" and that the current system is neither "rational nor sustainable".
Stephen Twigg MP, Labour's Shadow Education Secretary is more cautious about Free Schools, indicating that "we are not going to take an absolute policy of opposing them" so long as Free Schools will "raise standards for pupils and parents" and "will contribute to a narrowing of the achievement gap between rich and poor".
On whether Labour would support the opening of more Free Schools Twiggs said:
I would maintain a mechanism via which innovative educators could create new schools. I almost think it is a technical question as to whether that mechanism is the Tory Free School legislation, or our earlier academies legislation, or something else. My problem with Free Schools is that they are an unplanned process of school development that is not related to need in any way.
Analysing the Department for Education Statistics shows that 9% of primary school pupils and 8% of secondary school pupil in current Free Schools are in receipt of Free School Meals (FSM), compared to 18% and 15% in local authority maintained primary and secondary schools respectively. Converted academies have a FSM eligibility very similar to that of Free Schools.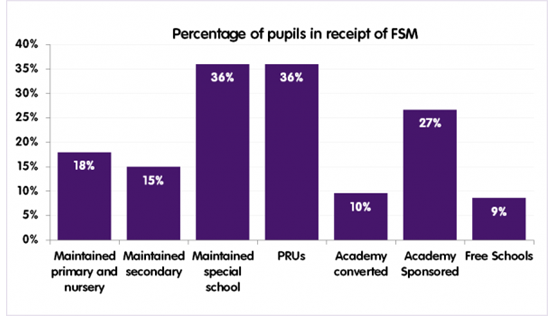 Although this suggests far lower percentages of deprived pupils in Free Schools, it is difficult to draw conclusions from this as it is still early days in pupil admissions for many of the free schools.
In fact, in their recent press release, the Department for Education has emphasised that of those Free Schools approved in the most recent wave, 63% are in districts with a severe need for additional primary school places, and 38% of the mainstream Free Schools will be in the 30 per cent most deprived areas as measured by the deprivation index.
As the number of Free Schools rise, it will be interesting to watch how these trends evolve and to see how their critics and their supporters react.