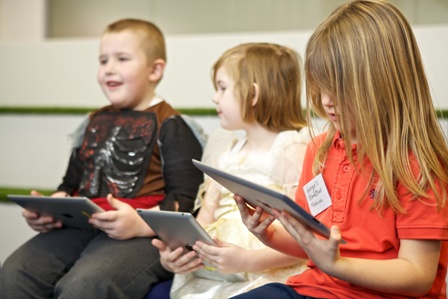 Where do you stand on ebooks? Whether you are a devotee or a refusenik there is growing evidence to suggest that both teachers and students are keen to make the switch to digital content. In this post we share two recent events that point towards a future of ebooks.
Girls' Schools Association votes for digital
David Brooks, RM's CEO, spoke at the recent Girls' Schools Association conference of deputy headteachers and senior leaders. Alice Phillips, GSA President Elect and Head of St. Catherine's, Bramley asked delegates, "If your current textbooks were made available in PDFs at the same quality and same prices as their physical counterparts, who would switch tomorrow?". Over 75% of the delegates in the room raised their hands.
"Students increasingly expect to be able to access learning materials via digital means. We must keep pace with their expectations to keep them engaged, which means embracing digital learning resources," said Alice Phillips, GSA President Elect. She continued, "What our research, and particularly our conference, has revealed is that our members would happily make the shift to digital if it was made cost-effective, easy to access and robust. It's down to companies like RM and publishers to make this happen."
Why children prefer reading on a tablet….
Even if you'd rather curl up with a nice tatty paperback, your students may well prefer something a little more high tech. We had sixty primary school pupils visit our interactive learning centre for World Book Day and I interviewed them to find out whether they prefer reading with a book or a tablet. As well as a very entertaining rendition of Gangnam Style and lots of giggling at seeing themselves 'on tv' (we'd rigged up a visualiser so they could see themselves on screen while they were being interviewed) they provided some interesting insights.
Over three-quarters of the children I spoke to said they prefer reading on a tablet. When I asked them why it came down to enhanced functionality and how they interact with the device.
Several children said the ability to enlarge the text helped them to read:
"I like tablets because if the text is really midgey [small] you can make it bigger.
Many said that it was 'easier' to read on a tablet because you can turn the pages simply by swiping the screen or pressing a button:
"You can just swish the pages and they turn so it's better and makes it easier to read."
They also liked the multifunctionality of a tablet – that once you're done reading you can move on to a game or another form of entertainment.
"A book's just a book – a computer can be anything."
To find out about RM Books – the ebook solution for schools, click here.