The next release of RM Unify is here and with it comes some nifty enhancements to the App Library that will help you find the apps you are looking for, some improvements to the general RM Unify support on offer, and complementary to that the introduction of RM WebChat.
This blog fill you in on these changes, linked to a comprehensive release note as usual.
1. A new and improved App Library
With the increasingly impressive selection of apps available on offer via RM Unify we've been keen to respond to your needs and help you find the apps they are looking for. So let us introduce some improvements to the App Library that we're pretty proud of.
The addition of filters and search within the App Library means Administrators can quickly and easily:
Sort the overall App Library to show what's recently been added.
Filter on one or more Subject Areas.
Filter on one of more Target Audiences.
Search for subject areas, target audiences or even app names.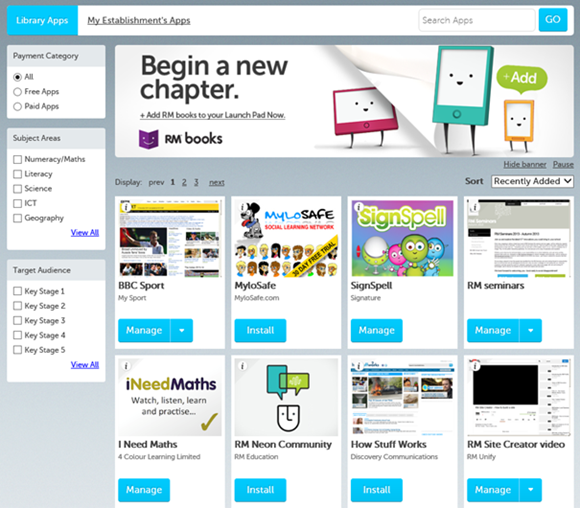 And once you've got some apps added, you can also utilise some equivalent functionality we've added to help manage your own establishment's apps. By clicking on the My Establishment's Apps tab you will access this area where in addition to utilising the filter and search functionality described below you can quickly and easily:
Filter by Installed Apps; that includes any app you have installed onto any of your users Launch Pads.
Filter by Purchased Apps; that includes any app you have purchased via RM Unify.
Filter by Establishment Tiles; that includes any tile you or a teacher have created yourself using the 'Create Tile' functionality introduced in v1.20.
Check out the release note for more detail, or alternatively just have a play yourself!
2. Help Splash page and Introducing RM WebChat
Since RM Unify began you've been able to use the Help button located on the header bar of all RM Unify pages to access the trusty RM Unify Support Portal, but since then we've introduced several other channels to provide help, support and updates too. We've taken the opportunity to unify (excuse the pun!) these and make them available via the same Help button, providing a simple but effective splash page to bring it all together.
Let's take a look at what's on offer via this splash page:
And now introducing…
RM WebChat – This new service complements the online and telephone support available exclusively to RM Unify Premium customers, and gives Administrators access to a live online engineer during working hours (08:00 – 17:00).