Microsoft Office 365 offers a wide range of valuable tools for schools and at the heart of Office 365 is SharePoint, Microsoft's communication and collaboration product. SharePoint allows you to build a secure intranet site for staff and students or even your public website all hosted for free on Microsoft's purpose build cloud. SharePoint includes a wide range of tools including blogs, wikis, surveys, document/picture libraries, as well the online versions of Word, Excel and PowerPoint. All of which can be used to support both the administrative and educational areas of your school and meaning students and staff can collaborate and work wherever they have an internet connection. In essence SharePoint offers many of the features that schools value in expensive Learning Platforms for free.
However, the downside is SharePoint is not purely designed for school use; it was primarily developed with the flexibility to support a wide range of corporate business and government needs. This means the 'out of the box' experience which schools are faced with is that of a generic product, in which you have to design and build something suitable for use in a school. Starting with this blank sheet of paper and having to design a site structure, along with needing to learn a new product, can be daunting.
RM Site Creator for Office 365 makes this process simple. In a few minutes you can design an impressive looking school intranet with corresponding areas for all your different subjects, year groups, clubs and interest groups, as well as areas for Staff CPD and for Student Voice. RM Site Creator also offers default site structures, designed with input from teachers, which you can then customise to meet your individual school's need.
These structures are then populated with sites that are created using professionally designed themes and imagery (including subject related background imagery). These can be customised or replaced during the design process, but they ensure that your school can get up a running with an impressive site as simply as possible.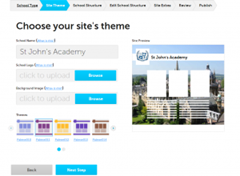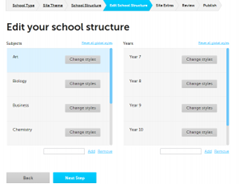 Once your design is complete, you can review the structure before setting RM Site Creator to work on building your sites in SharePoint. This will typically save you thousands of clicks and days of work, as RM Site Creator automatically builds the individual sites for your year groups and subjects, creates pages for your classes, adds background imagery and suitable SharePoint Apps and Web Parts. All that remains is for you to add your school documents and populate the pages with your content and you're ready to go.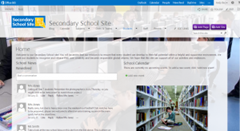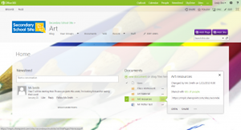 When you have created your new school site it is likely that you will want to make additions and changes over time. For example, you might want to add a new page to your Art area all about Picasso, or an area in History containing information and resources about the Vikings. RM Site Creator for Office 365 simplifies this process by providing teachers with a variety of page and site templates that can be accessed from within your SharePoint site. You might want your new Picasso page to look like the rest of the Art site, or perhaps have a more abstract colour scheme. No problem; these templates can be quickly customised giving you the flexibility to create your sites and pages in the way that you want to.
RM Site Creator for Office 365 allows you to design and maintain a professional site without spending thousands of pounds on consultancy. It saves you many days of work building your school site and helps you to immediately take full advantage of the value of Microsoft Office 365.
RM Site Creator for Office 365 is available exclusively through the RM Unify App Library. You can sign up to RM Unify for free here.