This is the third and final part in my series looking back at education in 2013, and focuses on academies and free schools in England.
Academies (click here)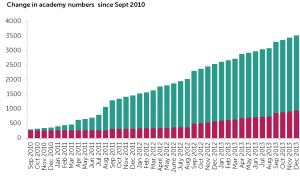 As of December 2013, there were 3,522 academies open; 949 of these were sponsored and 2,573 converted.
The 39 academies built under the Targeted Basic Needs Programme are due to be completed in 2015 and include 35 primary schools, three secondary schools, and one special school
During 2013 a total of 986 schools became academies, with April and September the peak months for academy conversions.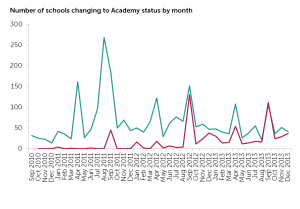 See my previous posts on academies for breakdowns by sector.
According to official figures by the Department for Education, the biggest sponsor of academies is the Academies Enterprise Trust, which supported 76 academies by December 2013 (60 of which were sponsored, and 16 converted).
While there are a total of 376 different sponsors, 310 of them support fewer than five schools.
Please click here for the full December Infographic of academy numbers.
Academy chief executive (Leigh Academies Trust) Frank Green has been appointed as schools commissioner. His role will be to promote the academies to schools, local authorities and parents, as well as recruiting academy sponsors
The Education Committee has announced an inquiry into certain aspects of the academies programme, such as the approval process for schools, the role of the Secretary of State in intervening in failing academies, accountability, as well as the appropriateness of academy status for primary schools.
Free Schools, UTCs and Studio Schools (click here and here)
The total number of Free Schools was 174 in 2013. There were also 17 UTCs, and 28 Studio Schools.
A further 116 Free Schools, 28 UTCs and 13 Studio Schools have been approved to open.
Planning changes have been introduced to help open free schools and will allow free schools to open in almost any building for a year without needing planning permission.
In December 2013, the Department for Education announced the first Free School ordered to close due to low standards.