This is the second part in my series looking back at the policy and funding announcements of 2013, and focuses on school funding; both in terms of overall national funding and in terms of some of the grants and premiums that were announced last year.
Please note that this in no way lists every funding school announcement of the DfE this past year, but covers only some of the most wide-ranging policies.
School Funding reform for 2014-15 (click here)
Since the initial reform to the school revenue funding system for 2013-14 was announced, a review was launched for 2014-15 funding arrangements in order to see whether changes introduced were efficient and whether there were any unintended consequences which would need to be adjusted for.
The overall aim is to provide a national funding system that maintains some local discretion over funding while improving arrangements for consistent funding between schools through a National Funding Formula
Originally, 12 factors were introduced (two mandatory), to determine the amount of per school funding. For 2014-15 these factors were reviewed and adjusted where necessary; thus 5 funding factors have been changed and one new factor introduced.
Changes include a lower maximum lump sum allowance, but with more flexibility; the added factor is the 'sparsity factor' to aid small, rural schools.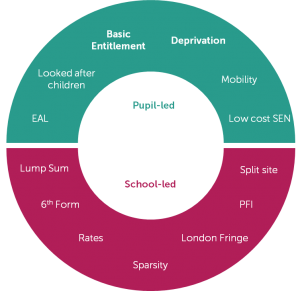 DSG Funding (click here)
Same per pupil amount for 2014-15 as in 2013-14 and in 2012-13. Overall up due to increase in pupil numbers. Total for 2014-15 is £38.6bn (up from £38bn in 2013-14).
Per pupil funding in the school block is £4,551, and £4,281 per Early Years pupils.
Pupil premium allocations (click here)
2013-14: Primary pupils receive £953, secondary receive £900. Total: £1.84bn
2014-15: Primary pupils receive £1,300, secondary receive £934. Total: £2.3bn
Capital funding (click here, here and here)
£2.35bn for more school places by 2015 on top of previously announced £5bn for more school places by 2015 through Targeted Basic Needs programme
Universal Infant Free School Meals funding - £450m in 2014-15 and £625m in 2015-16 to fund free school meals for every child in reception, year 1 and year 2. Also £150m of capital to fund kitchens and improve dining capacity
Capital funding for 2013-14: Total DFC and maintenance capital funding is £1.4bn for 2013-14 (approximately level compared to last year).
46 schools to be rebuilt in 5 batches with private finance under Priority School Building Programme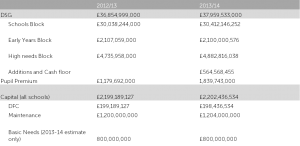 Catch-up premium (click here and here)
£54 million for secondary schools to run catch-up classes in English and maths; £500 per pupil in Year 7 who did not reach the expected level in literacy and maths when they finished primary school
£10m for projects to be set up across England to help disadvantaged pupils who are below the expected level of English by the end of primary school.
Computing teaching funding(click here and here)
£1.1m for the British Computer Society (BCS) to help primary school teachers with no previous computing experience
£2m for computing teacher training to allow the BCS to recruit 400 master teachers, each passing on their skills to 40 schools.
Further Mathematics Support Programme (FMSP) (click here)
Funding was £3.25m in 2012, £3.5m in 2013 and from 2014/15 for five years it will be £5m per annum. Currently over 2,500 schools are registered with the FMSP.
The aim of the FMSP is to increase the number of students studying further mathematics A level.
Other selected grants and funding schemes:
In addition, a number of bursaries have been confirmed, including Core Subject Bursaries, chemistry, maths, and computer science scholarships, continuation of SEN-Co funding, EY apprenticeships funding, and fast-track teacher training for troops.
The next entry in this series will be looking at Academies and Free Schools - stay posted!