RM Books is revolutionising the way teaching and learning takes place with a ground-breaking new two-way social reading experience, which will launch in the Summer term 2014.
The new two-way reading experience was demonstrated at BETT 2014 to a unanimously positive reception. Educators could really see how their annotations will help their students' comprehension. Particularly, they appreciated the time-saving that will come from RM Books auto-marking the multiple-choice questions they set within the books.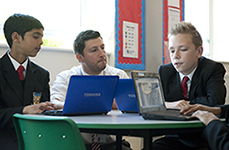 RM Books will enable teachers to work on top of ebook texts to pose questions that improve students' comprehension mid-book, write notes and helpful hints, and insert pictures and videos to bring the text to life. Students can add and share notes with their teacher, see the teacher's annotations, pictures, videos and answer quizzes, all while reading their ebooks. Teachers then see a formative assessment snapshot of students' answers, so they know where their class is at ahead of each lesson, to make the best use of precious lesson time and understand which students need additional help.
81 per cent of their students read more often and for longer
Alan Hodgin, Head of RM Books, said: "We have many excited schools now using RM Books every day who are delighted with the difference it's making for their students' literacy; they're challenging us to make our nimble ebook platform do things they just can't with paper books.
"They can already allocate books out instantly to groups of students by reading level, renting them only when needed, and we've recently added reading reports so teachers can see who is reading which books for how long. Now we're revolutionising the reading experience by allowing teachers to help students understand the material better mid-book and then test that understanding by adding simple quizzes within books.
"For students it's like having a teacher discussing the books alongside you as you read. That's a powerful addition for the many schools that now use flipped learning, because they can see where the class is at before the lesson begins.
"Shakespeare plays can be brought to life by teachers adding YouTube performances or War Poetry understood more easily with the help of an actor's reading, for example. Whatever the book, teachers are now free to add further value to it, and so revolutionise the reading experience for their students."

Teachers at Shireland Collegiate Academy in the West Midlands have been using RM Books to support topics within their Key Stage 3 Literacy4Life competency-based curriculum, as part of a pioneering transition provision for new Year 7 students through the family literacy programme.
Since using RM Books, Shireland have reported have that 81 per cent of their students read more often and for longer, while 95 per cent said they found the platform a useful learning tool and 100 per cent of the academy's teachers who used the books said it had improved their lessons.
Kirsty Tonks, E-Learning Director at Shireland Collegiate Academy, said: "I think you're only limited by your imagination in terms of using RM Books. The mark of any good tool or resource within a school is the flexibility of how you can use it, and RM Books is multifaceted in that way.
"What we found is that those with special educational needs and English as an additional language really gravitate towards using ebooks – they like the fact that they're tactile, that they can really get to grips with them and they really enjoy using them on their tablet devices."
For Victoria Park Primary Academy in the West Midlands, who successfully made the transition from Special Measures to Outstanding, the platform has become a vital tool in engaging their reluctant readers and raising overall literacy standards.
Headteacher Andrew Morrish said: "The impact has been staggering. What it's done is capture the imaginations of children who, in the past, have been very reluctant readers. But also it's done the same thing with the parents. It's not just the child reading at home, it's the child reading with mum and even grandma, who get so excited by it. So it's been quite transformational in that sense."
Alan Hodgin added: "We're already seeing the evidence that this is improving engagement, reading time and overall literacy standards, and it's very exciting to be at the forefront of something which is having a measurable impact on teaching and learning."
The new reading experience, annotation and quiz authoring tools will be live within RM Books for the summer term, 2014. Register now to find out more about how RM Books works and see the difference it's making at books.rm.com