The next release of RM Unify is here and with it comes the opportunity create Launch Pads more granular than ever before, hence giving you the ability to give your users access to a set of apps tailored to their needs.
More granular Launch Pads
To date RM Unify has given RM Unify Administrators the opportunity to tailor Launch Pads for each role type within their School, whether that be for Students, Teaching Staff, Non-Teaching Staff, Governors or Others. This works by attributing the relevant role to each user, either fed through from the identity source RM Unify is synchronised with (such as your Active Directory) or uploaded via a CSV. The net result of this original functionality is that when that user signs in to RM Unify they see a set of apps that is specific to their role type. This simple approach to app and user management is effective and in some cases provides a suitable level of granularity to get going with RM Unify. That's why it is here to stay!
Many customers we have spoken to though, particularly the ever increasing number that are now using RM Unify in earnest, have told us that in order to really embed RM Unify in to their School they need the opportunity to create Launch Pads at a more granular level than the default roles. We're pleased to say that now that opportunity is here.
Check out the below screen shot and you'll instantly be able to see what we're talking about. Want to put this in to action in your School? Check out the usual accompanying comprehensive release note.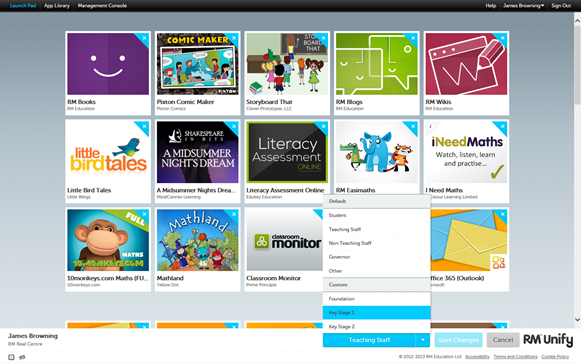 We're looking forward to showing this functionality off at BETT 2014 in London next week, alongside the app explosion that's occurring in RM Unify too. If you're attending yourself you would be very welcome at stand C240 for a chat and a coffee. Hopefully see you there!