Schools Minister David Laws has announced an extra £350m in 2015-16 to give a "boost to schools in the least fairly funded local authorities in the country" and take a "first huge step" towards delivering a national funding formula.
In June 2012 the Department for Education (DfE) first announced details of the reform to the school revenue funding system for 2013-14, with the aim to make it "fairer, simpler, more consistent and transparent" by introducing a National Funding Formula.
The overall aim was to provide a national funding system that maintains some local discretion over funding while improving arrangements for consistent funding between schools. It should ensure that as much funding reaches schools as possible and enable all institutions to understand the basis on which they are funded.
To achieve this, the government published 12 factors for each local authority to determine the amount of school funding. Two of these factors are mandatory, while the others depend upon the demographics of each school and are up to the local authority to decide.
A review was launched for 2014/15 in order to see whether the changes introduced were efficient and whether there were any unintended consequences which would need to be adjusted for. One new factor was added (sparsity) and five were adjusted.
The department is not proposing any changes for 2015-16 apart from possibly the sparsity factor (currently consulting).
Funding Factors for 2014-15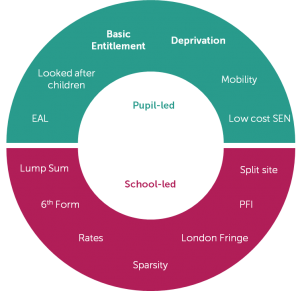 The introduction of the National Funding Formula is planned for the next Spending Review period (after the General Election in 2015) with the years leading up to it a transition period.
In order to ensure that every area attracts a minimum level of funding for its pupils during this transition period, the DfE has now released the consultation to allocate the extra £350m in 2015-16, increasing per-pupil budgets for the least fairly funded areas.
This is hoped to aid the introduction of the national funding formula 'when the time is right', by giving underfunded areas more money without taking anything away from the other areas.
The extra funding will be allocated on the basis of the characteristics of the pupils and schools in that area, not on the previous levels of funding.
Allocation of extra funding:
In order to allocate the funding there will be minimum per pupil funding levels in 2015-16. If a local authority already attracts at least these minimum funding levels then no change will be made. If a local authority attracts less than these minimum funding levels for the pupils in its area then the department will increase its budget until it meets those levels.
A minimum funding level will be set for:
Per pupil amount (age weighted)
Pupils from deprived backgrounds
Looked after pupils
Pupils with low previous attainment
Pupils with English as Additional Language
Lump sum
Sparsity sum
Indicative minimum funding levels are: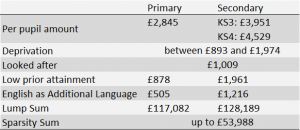 These numbers are due to be revised when the final local authority funding formulae are confirmed. The extra money is due to be allocated in April 2015.
David Laws has said that currently around 60 local authorities are stand to gain from this funding. The top 15 gainers by percentage rise are likely to be Bromley, Cambridgeshire, Brent, Sutton, Northumberland, South Gloucestershire, Shropshire, Merton, Bournemouth, Buckinghamshire, Cheshire West and Chester, Leicestershire, Warwickshire and Devon.
As an example, this means a 7% increase to schools' budgets in Cambridgeshire, or an extra £275 per pupil in the county.