The next release of RM Unify is here, and there are three exciting improvements to make you aware of:
Introducing saved password apps
School initiated re-sync of apps
Delegated admin user rights
Now included within RM Unify are 'saved password apps' which provide schools with single sign-on access to services already in use by caching a user's credentials once. This new feature launches with the addition of more than ten saved password apps including RM apps such as RM Portico and CC4 Anywhere as well as third party apps such as Edmodo and Moodle.
The two further changes in this release make the management of apps and user accounts easier for staff. It's now possible to re-sync user accounts within apps via RM Unify, and to delegate admin user rights to multiple staff members. All three changes are explained as usual, in the comprehensive Release Note.
Introducing saved password apps
Today RM Unify provides full integration with an unrivalled range of apps relevant to UK Schools. This full integration means Schools can purchase subscriptions (from the App Library), manage users (within the Management Console), and offer single sign on access (via the Launch Pad) to users with absolute ease. We are proud of the technology that underpins this full integration and the benefits of central management it gives to customers. Hence we will continue to recommend it as the primary way to purchase new apps, and the recommended way for our App Providers to integrate with RM Unify too.
In this release though, we are introducing an alternative way to integrate apps with RM Unify which as a result increases the range of compatible apps yet more. We call them 'saved password apps'. Presented via the App Library alongside apps that offer full integration, in summary when added these apps ask users to enter their existing username and password for an app once (upon first click of a tile), and instantly save it into RM Unify in a safe and secure manner hence removing the need for it to be entered again, no matter what device is being used.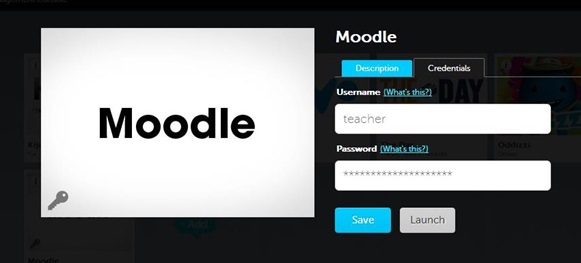 The release of saved password apps further cements RM Unify as the centre of Schools online world and local resources, particularly strengthening its ability to integrate existing apps with the RM Unify Launch Pad.
We understand that you may wish to integrate an existing service into your RM Unify account as a saved password app, and it may not already be available in the App Library. If you would like to request a new saved password app to be added to the App Library then we would love to hear from you. To request a new saved password app, email the RM Unify team at rmunify@rm.com and we'll get back to you.
If you want to get cracking adding saved password apps, follow the process explained in the 1.34 Release Note. Enjoy!