What is RM Unify?
Your child's school uses 'RM Unify' – a cloud based educational platform which allows teachers and students (and now their parents) to access resources on the internet easily. In a digital age, where access to online recourses is part of everyday-life, that means remembering multiple usernames and passwords. RM Unify makes this easier by allowing you to setup one username and password to remember for all of these services – we call it 'single sign-on'.
Your child's school will need invite you to access RM Unify if they have recently acquired a new application which offers accounts for parents. This could include offering you the chance to view data on the progress of your child or to keep up to speed with the latest news and announcements from school. RM Unify will provide you with easy access to these applications.
Getting an account for RM Unify
Your school will need to invite you to access RM Unify. Most likely, this will be because they have acquired a brand new application which offers parental access. Your invitation will be sent to the email address which the school has on their records. This is stored in their Management Information system (MIS). If your school does not have a record of your email address, you will not be able to login to RM Unif
Logging in to RM Unify
To login to RM Unify, go to www.rmunify.com
In the username field, enter your email address (the one that the invitation was sent to from the school)
In the username field, enter your chosen password
Click 'Sign in'
Using RM Unify
When you login to RM Unify, you will be taken straight to the 'Launch Pad'. This is the main page in RM Unify. The Launch Pad includes a a set of quick links to useful websites for parents, as well as applications that the school have purchased. Click on the tile to access it.
Here's an example Launch Pad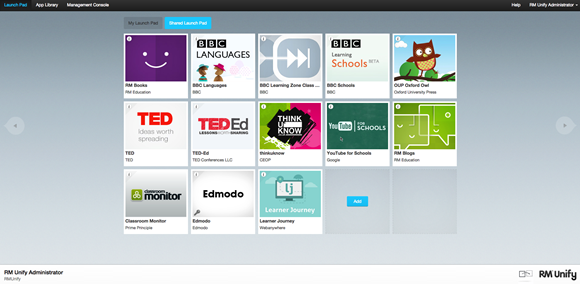 Your name will be displayed at the bottom left of the screen, above the school name.
Changing your password
To change your password, click on your name at the top right hand corner of the screen, and select 'Change Password'. Enter a new password of your choice in the empty field.
What happens if you forget your password?
You can set a recovery email address in RM Unify which you can send a 'forgotten password' link to. You can then set a new password from there. Here's how you do it:
When in the RM Unify Launch Pad, click on your name at the top right hand side of the screen, and select 'My Profile'.
Enter a 'recovery email address into the field (it can be the same one that you use to login to RM Unify with).
When you forget your password:
Go to the RM Unify login page (www.rmunify.com)
Click on the 'Forgotten your password' link under the Sign In box
Enter your recovery email address into the empty field
Click 'Reset'
An email will now be sent automatically to your recovery email address
5. Click on the link in the email address
6. Submit a new password
The App Library
The RM Unify App Library is the place where the school makes purchases for new educational applications and where they distribute these applications to people across the school.
Support – What if something goes wrong?
If you encounter a problem whilst using RM Unify, or if you have any questions, please contact the school. Their ICT support team will be able to assist you.